Yesterday we got hauled and then spent an hour waiting around for them to "block" us (set us carefully on large wooden blocks) and then get the support pads set up. Everything went well.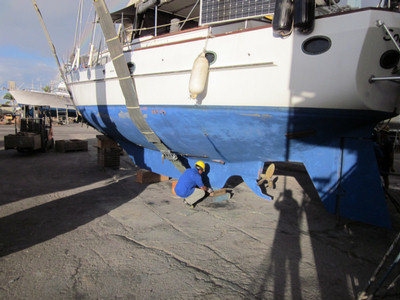 A Yard Worker Blocks the Keel
Then we had breakfast, and scrounged around the yard for a few bits of scaffolding so we could work on the high sides of the boat from a comfortable position. We have a 10 foot ladder that we have to climb up and down to get aboard.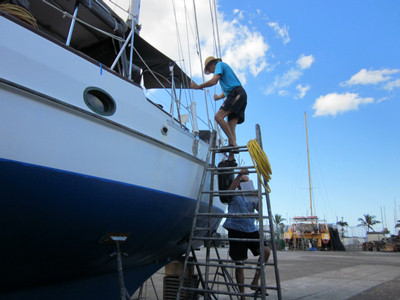 Climbing the Ladder
Because all boat yards are dirty, and this one is no exception, we put out old towels on the deck between the boarding area and the cockpit--trying to minimize how much dirt gets tracked into the cockpit and down below.
We changed our clothes to our 'boatyard' clothes... for me an old MYC Spring Regatta T-shirt that had gotten yellow stains from sitting in a drawer, and an old ready-for-the-trash pair of shorts. I hauled my old pink Crocs out of storage--the ones that had gotten destroyed by the last haulout. When we started painting, I added disposable gloves and a plastic bag on my head, and swapped my glasses out for an old broken pair.
Our goal for the day was to get one full coat of paint on the bottom, so it has plenty of time to dry by Monday when we get launched. We did that--finished just about time to watch a gorgeous sunset from the cockpit. One of those big round balls of fire setting in the west.
Today's fun is (a) the Surveyor in the morning, (b) Paint touchup (around the through-hulls and looking for 'holidays' (areas we missed), (c) Get ready to cut holes in the bottom.
For some reason we were both feeling under the weather yesterday... not sure if it is from food we ate (taking friends Mike and Mon from Windy City out for Mike's birthday at a nice restaurant), or maybe we've got a touch of the flu. We went to bed at 8:30 last night and slept about 10 hrs. I feel OK this morning (Dave is still in bed :)