We went on a hike last Saturday, organized by JBPHH MWR (don't you just love the military and their acronyms?). That stands for "Joint Base Pearl Harbor Hickam Morale Welfare and Recreation". Basically it is the local base Rec department. They have an Outdoor section that organizes Hiking, Biking, Surfing, Kayaking, Snorkeling, etc trips.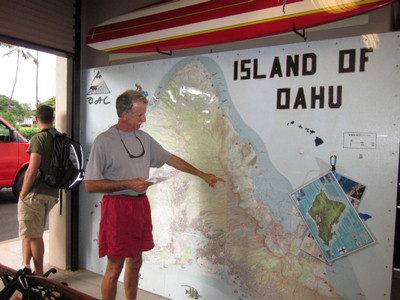 Dave Checking Out Possible Hikes
Every weekend Outdoor Rec has a couple of activities going on. It is aimed at active duty personnel and their families, but they don't mind us retirees joining in on a space available basis. Even if you don't want to go with THEM on a hike, they have all the information about each hike in a paper handout, tagged on a map. Plus they have rental equipment (bikes, surfboards, kayaks, golf clubs, camping equipment, coolers, etc) all at a reasonable price. Pretty cool resource.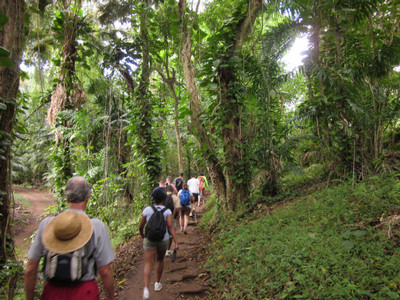 Hiking up the Trail
We paid $10 pp--they furnished the van that took 10 of us and 3 guides to the starting point, and then the guides took us along the path up to the falls. It was about an hour hike one way--a little wet and muddy in places--but well worth the effort.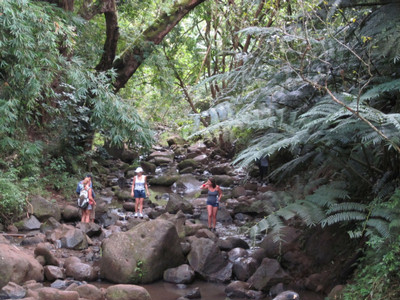 Crossing the Stream Bed
Dave went swimming, but I'm not into cold muddy water--I'll hold out for warm clear reef water, with or without sharks. We had fun watching people jump off the cliffs into the deep pool.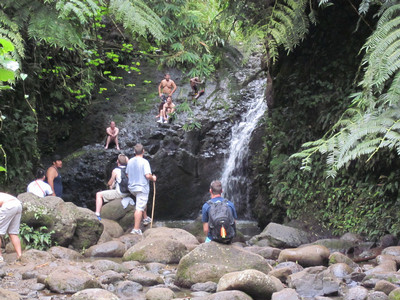 Finally at Moanawilli Falls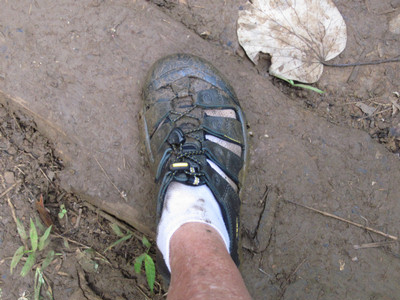 My Muddy Shoes
(and a big shout out to my niece Sally who gave these shoes to me at Thanksgiving--I LOVE them!!)
And finally my first YouTube video, of Moanawilli Falls: