Well, we finally got the quote from Diamond Welding for fabricating a new arch out of 1.5-2" ID Schedule 40 Stainless Steel pipe, per Dave's sketch below. It was $8000!
. So, needless to say, "we're not doing that".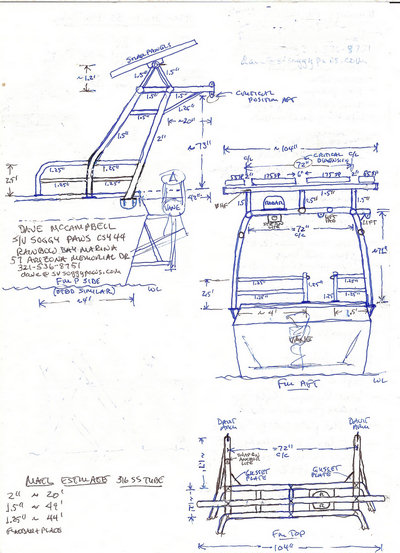 Dave's Sketch of the Planned New Arch


Also, here are some more specs and requirements. Click Here

Our fallback is to add some strengthening to our old arch. Dave got a quote of 'around $500' for that. It will probably look yet a little more ungainly, but will be plenty strong to keep us going until we get to a SE Asia where the labor rates and the cost of stainless are more reasonable. Mainly we needed the davit arms a little stronger, and a way to cross brace the whole thing thing when we are headed for the high seas. We don't leave the dinghy on the davits when going to sea, but with the heavier panels on top, we need a little more strength in the side-to-side direction.