Dave finally hooked up with a friend of his in Honolulu--his next door neighbor from 1988. And Pete has a sailboat at Honolulu Yacht Club, AND he was looking for crew for the Saturday race at HYC. Dave and I eagerly accepted and also recruited Sue from s/v Infini to go along with us.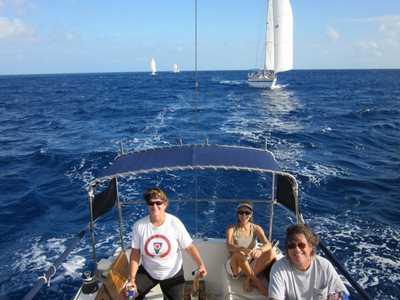 Sherry at the Helm of "Ipo"
We raced in Pete's 'new' Cal 230. It is just an interim boat for him, and the sails are a little sad for a race boat, but we all had fun just getting out on the water. The race was one of those 'get everyone out on the water' races. To put a little fun in the race, each crew had to do a 'man overboard' drill in the middle of the race.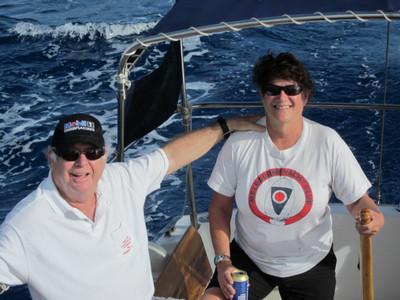 Pete Graciously Lets Sherry Take the Helm for a Leg
The course was about 8 miles long, in the lee of Oahu. Our windward mark was just off Diamond Head, and we sailed right past Waikiki Beach on the way to the windward mark. We got just enough ocean swell/chop out by Diamond Head to get our butts wet, but not so much as to have to give up our beers. The 'downwind' turned out to be almost a beam reach, so we had an easy downwind leg. And at the finish, we had a beautiful rainbow.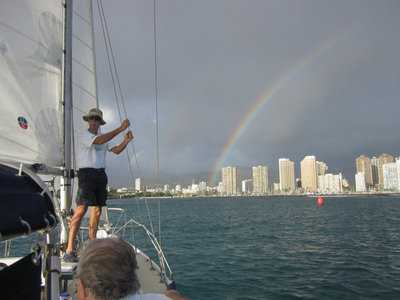 Dave with the Rainbow & Honolulu Behind Him