Even though there was lots of New Years Eve stuff going on in downtown Honolulu, there was no way we were going to go out driving around on NYE.

Our dock neighbors told us that there was usually a pretty spectacular show of fireworks around Pearl Harbor. The bay of Pearl Harbor is surrounded by non-military communities who are all mad about fireworks.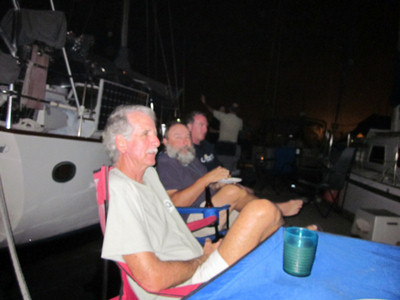 Dinner on the Dock
We had a nice time hanging out on the end of the dock with everyone from C Dock, waiting for midnight. We had a small potluck and plenty to drink. The fireworks started sporadically right after dark, and got more intense, all over the horizon, as midnight approached. With a very large Asian population, long strings of firecrackers were part of the show, but also large professional-size bursting aerial fireworks.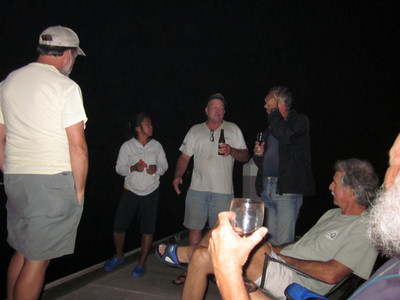 Waiting for the 'Main Show'
We weren't sure what the rules were for those of us IN Pearl Harbor, so we were minimal in our own fireworks. We had bought a 4-pack of big bottle rockets, and Dave dug out a few old flares. I really want to try shooting off the pistol flares, to see what it felt like to shoot one, and to see what the flare itself looked like.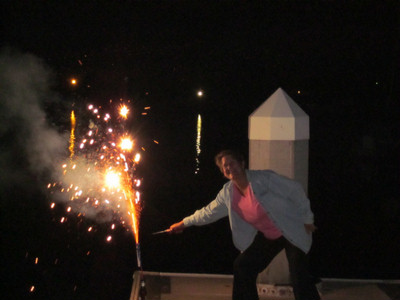 A Few Fireworks
Once we shot a few flares off, several dockmates rummaged in their boat for their old flares. We ended up having about an hour's worth of fun playing with fire, before everyone headed off to bed.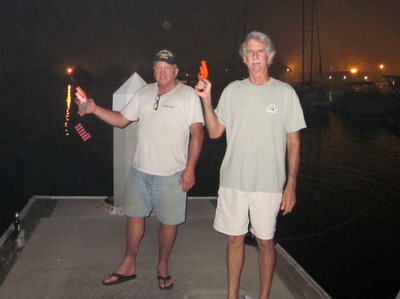 Testing Old Flares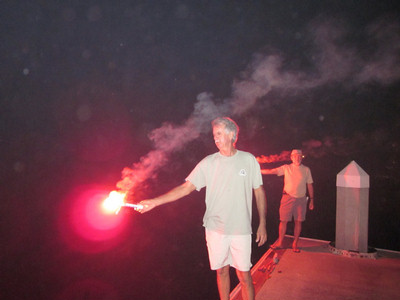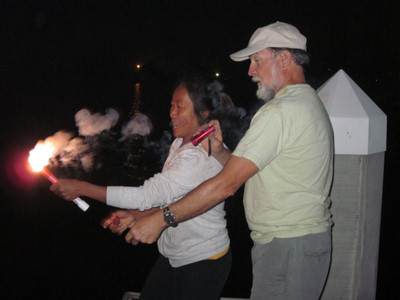 Mike & Mon from s/v Windy City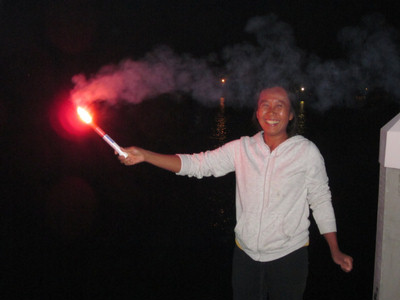 Hope everyone else had as good a New Years Eve as we did!!