April 16-18
We arrived in Woleai the Wednesday before Easter, having had to motor the final 12 hours in almost no wind. What a gorgeous place!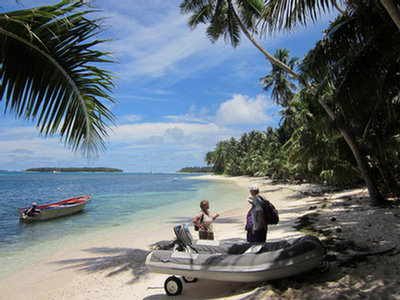 The Beautiful Beach at Woleai
Our friends on Westward II and Kokomo have been at Woleai for a couple of weeks--stuck there by the light winds and westerly winds. So they already knew the whole village, and quickly introduced us around.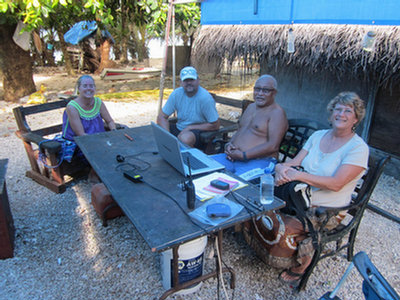 Checking In with Matthias
First, we checked in with Matthias, who is the official "greeter" for Woleai. Matthias is recently retired from a government (marine division) job in Pohnpei, the capital of FSM. He has a nice "office" set up under an awning next to his house (a thatched-roof traditional building with detached cooking area).
Matthias's wife, Joanna, has been helping Selena from Westward II weave a traditional women's "lava lava" (wrap-around skirt). This is done the old fashioned way--with a backstrap loom, by hand. The lava lava, with belt is the ONLY traditional wear for women on Woleai. Yep, they go topless. The men wear a sarong wrapped around their waist and between their legs while working in the taro fields, while fishing, while swimming. On Woleai, the men's sarongs don't expose the buttocks, but the little boys' sarongs have their cheeks hanging out, which is just so cute.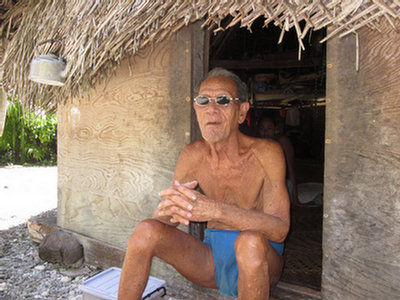 Chief Francis (with the sunglasses we gave him)
Matthias had set us up an audience with the two primary chiefs of the village--both men named Francis. The paramount chief is a lively 79-year old with a quick wit and a ready smile. He is totally blind, so he was led to the meeting by his son, a big strapping handsome man. Francis understands English well, but prefers to speak Woleain and have Matthais translate for him. We met in the chief's "boathouse", a large open-air thatch-roofed building that is essentially where the men of his clan hang out (and where they store boat parts, fishing gear, and fish traps, and work on their canoes). In general, women are prohibited from the boathouse, though they make an exception in certain circumstances for visiting yachties.
Woleai has a tiny hospital (aka dispensary), an elementary school, and a high school. This is the primary high school for all the islands surrounding Woleai atoll. We were amazed to find out that the dispensary has recently been equipped with a satellite internet system, with wifi. This is compliments of the Japanese government. The wifi was made available to us yachties for an astoundingly low fee of $5. It was slow, but usable, and enabled us to catch up on a few critical items (Facebook, blogs of our friends, bill paying, etc).
Stephen and Selena had been there long enough that they had been asked to do several talks at the schools about Australia, New Zealand, and where they'd been in their travels. They had also done at least one Movie Night on the grounds in front of the church. So they were totally plugged into the local scene.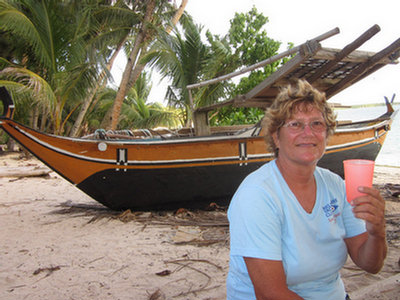 A Special Invite to the Cruiser Ladies to Drink Tuba
One huge aspect of the local scene for men is the evening "tuba circles". Tuba is a drink made by tapping a coconut palm. It is collected in an empty coconut that has naturally occurring yeast in it. This juice, by evening, makes a potent alcoholic beverage.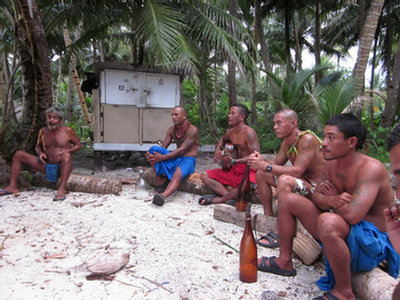 The Men in Their Nightly Tuba Circle
So the men gather near their boathouse, in a circle, and pass around the Tuba. (also known as Faluba in this part of FSM). The making, collecting, and drinking of tuba is fairly regulated by the council of elders, to keep things from getting out of hand. The men from our 4 boats went to several tuba circles. Dave, and Peter from Kokomo, didn't like the taste, and so took along mixers for their tuba. But Stephen and VK from La Gitana liked the traditional way, from a passed-around coconut shell. The yachtie women were invited to participate in Matthais's circle one evening. Normally I'm up for anything alcoholic, but I didn't like tuba. But for the islanders (and yachties who didn't provision well enough and are out of alcohol), the price is right and it can be very intoxicating.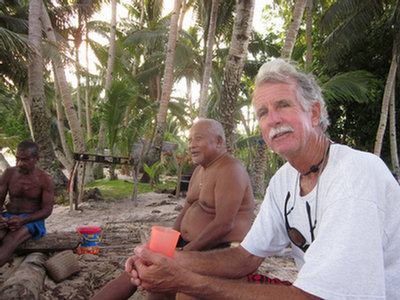 Dave Choking Down His Tuba
Since Woleain is the 4th different language in 4 stops, we never even picked up a word of it. Fortunately enough of the people speak pretty good English that we could get along OK.
Unlike Chuuk, where no one on the entire (large, populated) atoll seemed to own or use a VHF, everyone in Woleai uses one... both for the "safety while at sea" reason, but also as a party line for communications. We and they quickly learned each other's callsigns, and it was nice being able to contact people by radio. This was one of the items the yachties were asked for, and each of the other 3 boats ended up selling a hand-held to someone on the island (I couldn't get Dave to part with ours).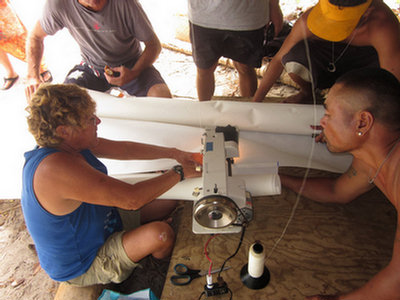 Sherry Sewing the Big Sail in the Men's Canoe House
One of the things we were asked to do while we were in Woleai was sew a sail for them. Apparently a politician running for office in the FSM gave a roll of good sailcloth to each clan on the Yap outer islands. I got volunteered by Stephen on Westward II--their sewing machine runs of 220v, and trying to rig up power for it would be a pain. Since we have a good sewing machine, it was impossible to refuse to at least try. So with Stephen assisting (Dave was out touring Japanese relics), I spent the day in the Chief's canoe house, sitting on a log, sewing a traditional canoe sail. The cloth was brand new 7oz Dacron, stiff and slippery. Fortunately, I had some double-sided tape to help stick the pieces together, or we'd have never gotten done.
The Chief's son did all the measuring and cutting (with a couple of coconuts and some "string" from a coconut leaf)--all we needed to do was sew the panels together. The first panel was 26 feet long!! But the 6th panel was only about 5 ft. It got to be quite a job to move the growing sail around, and we ended up with about 3-4 boys helping us out and another half dozen men and boys hanging around watching. They loved to see the needle fly. My sewing machine wasn't doing the best job--with occasional broken needles and frequent broken threads. But with two rows with V92 thread in each overlapping seam, it's probably sturdier and certainly a lot easier than them hand-sewing the whole thing. I was worried that the job would drag over into our weather window, but once I got all the panels sewn, my job was done. They would finish the edges--custom fitting it to the lateen rig, and hand-sewing the edges. Of course, the next clan down the island then approached me to sew THEIR sail, but we had to decline.
-----
At 04/16/2014 9:02 PM (utc) our position was 07°22.05'N 143°54.14'E