The Low that we've been watching for a week his finally turned into a named storm--Typhoon Peipah. Fortunately it is west of us now, so we don't have any worries from it. But it is trailing the entire ITCZ behind it, so we've had messy weather on and off for the last couple of days. We are on a radio net talking daily with friends in Palau, and Peipah is forecast to go close to Palau in the next 36 hours. Fortunately, current wind forecasts are not too bad--45-55 knots.
We were thinking of leaving here tomorrow and heading for Lamotrek, the next stop, about 170 miles due west of Puluwat, but there's another weak circulation forecast to pass here in about 48 hours, and Puluwat is the best place to be in this whole area for westerly winds. So we'll probably stay here until mid-week and let it go by us. Unfortunately, once it goes by, the wind is forecast to drop to under 10 knots. Sigh.
Oh well, we could be stuck in worse places. Puluwat is gorgeous, and is very traditional. It has a small enclosed lagoon with pretty good protection all around--and a "hurricane hole" we could get into if we needed to. There are nice white sand beaches and millions of palm trees to look at.
We have dipped the entrance to the inner lagoon and found it to be over 6 feet all the way in, so we could go in there if we needed to. We took a couple of waypoints on a sunny day so we could get in even in bad weather.
We are the only boat here. Our friends on Westward II and Kokomo are in Woleai, about 200 miles west, and La Gitana is in Olimarao, a similar distance WNW. The boats at Woleai report that Woleai just got internet as of 1 April!! The times they are a-changing, that's for sure. There are two or three boats behind us in Pohnpei, and one in Yap. By early May, everyone will be in Palau, or down in the Solomons. After May, the typhoons get more frequent and stronger, so boats rarely cross this area except Jan-April.
Here in Puluwat they are still mostly living in traditional houses constructed of natural materials. Some people have concrete or wood frame and corrugated aluminum houses, but not as many as in places like Pohnpei or Chuuk. All the "boat houses" are traditional thatch-roofed wooden huts. There are at least two fiberglass open boats here (one for each village, I think), but almost everyone gets around using handmade wooden "proas". Most are about 12-15 feet long and narrow--hewn out of a single breadfruit tree trunk--they are designed for one big guy. Two smaller guys can manage, but balance is an issue. They have a single outrigger, lashed to the main part of the canoe with small poles and coconut fiber ropes (or sometimes, heavy monofilament fishing line). Some are rigged with sails, but most are just paddled. We have pictures, and will post them later. We have heard that there are several larger ocean-going canoes here, but we haven't seen them out yet.
We have kept ourselves busy here while waiting for a good weather window. We met a very nice guy in Relong village (one of two here) named Sky, who speaks very good English. He sent two of his sons with Dave to show him the way to the old Japanese lighthouse on Alet Island, to the west of where we are anchored. Dave and the guys spent all day on Alet. They left the boats on the southern beach of Alet, and went down the beach almost to the lighthouse, then cut in on a trail to explore the lighthouse. Dave says "It's not an ordinary lighthouse. The construction makes it seem more like an upscale house rather than just a lighthouse." On their way back, they took the old Japanese road down the center of the island, and the guys showed Dave all the Japanese artifacts they knew about, including:
- 10 Japanese howitzer type guns on trailers
- Lots of trucks, road graders, rollers, tracked and wheeled tractors and much other construction equipment
- Several bunkers
Dave was in heaven. I was happily back on the boat enjoying not going on yet another "jungle stomp". I had wrenched my knew on the rough passage from Chuuk, and wanted to give it a rest.
The next day, it was pouring down rain, but during a break, Sky showed Dave where the wing of a downed American airplane was. He marked it on the GPS so we could come back and snorkel it on a sunny day.
Yesterday, we had a beautiful sunny day in the morning, and we went to snorkel on the plane. All we knew about it was that Sky said the plane came in low from the west, and was shot down by anti-aircraft fire and landed in the lagoon. While we were anchoring the dinghy, all the guys from the village came past in their canoes--two to a canoe. They were headed to the edge of the reef to catch fish for Sunday dinner. Normally they would go outside the reef in the big canoes, but the wind was still blowing pretty hard, so they were going to use a net to catch smaller fish in the safety of the lagoon.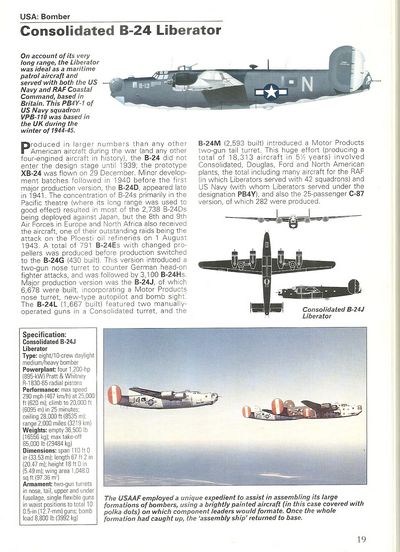 A B24/PB4Y
Sky said as he went past in the canoe "There are more parts of the plane that way," pointing west. What we found when we snorkeled on the wreckage was a large part of one large wing. It was resting in 10-20 feet just on the edge of the sand bank, clearly visible from the surface. We snorkeled it, and Dave took a bunch of pictures (to help identify what kind of plane it was). I got quickly bored of Dave's minute investigation of what was there, and set off to see if I could find more of the plane.
It took awhile, but I finally located two huge airplane propellers and part of one engine, a long way from this wing piece. I finally got Dave's attention and he brought the dinghy closer. In 15 minutes of snorkeling around this spot, we located more parts of the airplane--the other wing, we thought, because we could see another wheel strut under this one too. And pieces of 4 engines. The two propellers I had found were the only ones we located. They were bent in the usual way, which indicates the engines were turning when they hit the water. After looking through some of his aircraft ID books, Dave is pretty sure this is an American B-24. He's emailed a couple of friends to see if anyone can find any info on this particular plane. Though we found the biggest parts of two wings, and most of the engine pieces, we still haven't located the body of the plane, which should be pretty big.
We also dinghied around looking in all the nooks and crannies of the 3 or 4 uninhabited islands. All the people on the two villages live on the one easternmost island. One village is Catholic and one is Protestant, but there is a path between the two villages and lot of intermingling on a daily basis. We heard the traditional chief from Rewo village, the one we're anchored off of, has married someone from Relong and is now living there. We are told there are about 300 people on island. A few speak very good English--apparently it is common to send the young kids off to relatives in Guam to educate them. There are also a lot of people from Puluwat living and working on Chuuk and in Guam.
One Puluwatian we met in Chuuk was Gideon. He is the manager of the stevedores (dock workers) in Chuuk at the main ship dock. He was very helpful to us when we were trying to get in contact with the officials. So when he asked us if we could carry something to his sister in Puluwat, we readily agreed. We ended up with a 20-lb box of frozen "turkey tails", a 50-lb sack of rice, and a big cardboard box of miscellenous stuff. The only address we had was "Judith, 3rd house from the right in Rewo Village)". The box of turkey tails was too big to fit in either our fridge or freezer, so I put it on the floor in the head, and put as much insulation around it as I could manage. I worried about it the whole trip. But it was still partially frozen when we arrived in Puluwat.
We had no trouble finding Judith when we arrived. We had dropped anchor almost right in front of her boat house. Judith was totally surprised by our delivery--apparently Gideon hadn't been able to get word to her that we were coming. She didn't have any refrigeration, but said the turkey tails would be shared out around the extended family. She gave us a handful of limes and a couple of breadfruit as thanks for delivering the stuff from her brother.
Some waypoints for cruisers following in our wake:
Airplane Wing #1 - 07-21.16N / 149-11.24E
Propellers 07-21.14N / 149-11.13E
Airplane Wing #2 07-21.14N / 149-11.14E (and 2 engines)
Jap Dock on Alet 07-21.31N / 149-11.59E (the road starts here)
Patrol Boat 07-21.59N / 149-11.42E
Lighthouse 07-22.28N / 149-10.22E
Because the weather's not been great a lot of the time, and we've been preoccupied with WWII stuff when the weather has been good, we haven't socialized much ashore. But people from both villages have asked us for books & magazines, DVD's, and fishing supplies. We also came prepared with small bags of rice, instant coffee, and cans of Spam. Though we have been offered breadfruit and coconuts, we keep asking for bananas and papayas, indicating we are willing to trade for them. But so far, we haven't been offered any. Mason in Chuuk told us that the Chuukese don't eat papaya much--they use it more for cleaning and medicinal purposes.
-----
At 04/02/2014 3:25 AM (utc) our position was 07°21.11'N 149°11.54'E
http://svsoggypaws.com/currentposition.htm