April 17-21
While talking with the chiefs on our first day in Woleai, Dave arranged for a guide to take him on a tour of the Japanese relics on the island. Dave was assigned Julian, who is a 30-something man from the paramount chief's clan. (I was going to go too, but got volunteered to sew a sail for the chief's canoe instead).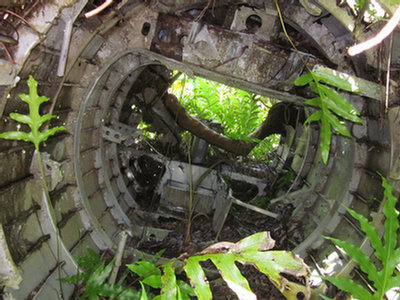 Airplanes in the Jungle at Woleai
Most of the young men on any give atoll that has World War II stuff know where all the stuff is (tanks, anti-aircraft guns, airplane remnants, torpedoes, etc), but none know very much about what they are looking at. So when Dave does his tour, he takes along books like "Military Aircraft of World War II", and prints of photos from the internet, and tries to educate them about what they have in their jungle. Dave is so enthusiastic about this stuff, that he tends to get everyone else fired up about it too.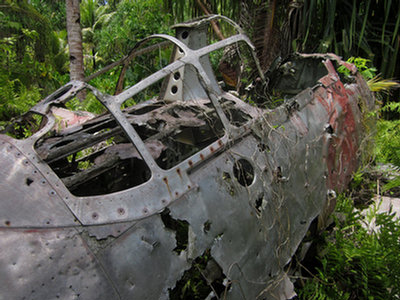 More Airplanes in the Jungle at Woleai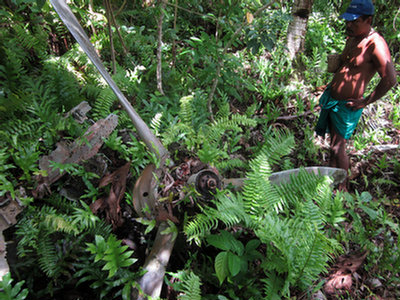 Dave took a lot of pictures, and left them on Matthias's computer. The computer guys at the high school want to use them for a website about Woleai. (insert best pics below when possible).
The last day we were there, we snorkeled on an H8K "Emily" Japanese flying boat. It was sunk while at anchor in the atoll, not far from where we were anchored. We really should have hauled out the dive stuff and done a proper dive on it, but we were leaving the next day and didn't want to go through all the bother (mainly rinsing, drying, and re-stowing the gear). The Emily is in 35 feet of water, so is a bit deep for a snorkel. But Dave still got some pictures of it. The entire wing with all 4 engines is intact, upside down. You can see two of the outer floats nearby. And an aft gun turret with the gun still sticking out. GPS 07-21.92N / 143-54.083E We'll post a couple of pics when we next have internet.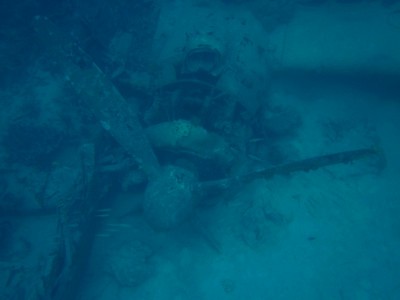 The Emily in 35 Feet of Water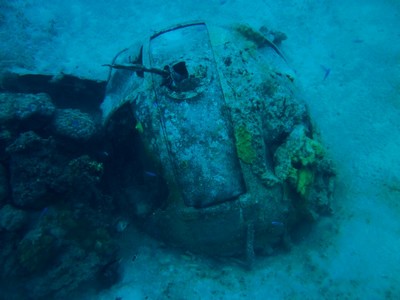 The Nearly-Intact Dorsal Gun Turret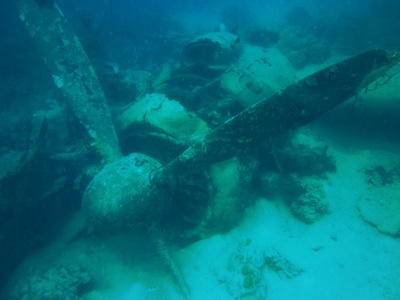 There is usually a WWII picture of a formerly Japanese-occupied atoll on Wikipedia. And A friend sent a link from the internet regarding the Japanese surrender at Woleai (thanks, Roger!). This is a telling account of what Woleai (and many many other Japanese-occupied atolls) went through toward the end of World War II
http://www.desausa.org/images5/uss_sloat_de_245_woleai_surrender.htm#Photos