We ended up having to turn on the engine about 30 miles out of Ulithi, to make sure we made it in to an anchorage before dark. We crossed over Zohhoiiyoru Bank on our approach. The water depth goes from several thousand meters deep to 30 feet, for half a mile, and back to deep again. So we put the fishing lines out, but got nary a nibble, over the bank, up the slot, and into the atoll. We did see two different sets of mating turtles though, out near the islands at Z-- Bank. Amazing that there are any turtles left at all here--the Micronesians have no concept of turtle conservation, and they're all going to be gone soon.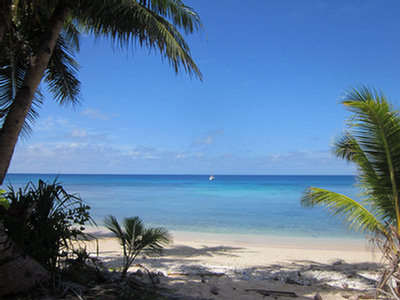 Soggy Paws Anchored Off Sorlen Island
We arrived in Ulithi late in the day on Thursday, and dropped anchor off Sorlen Island just before sunset. We chose this spot partly because of its protection from tne NE winds, but also because it was NOT one of the "inhabited islands". After a week at Woleai doing the village thing, we were ready for a break and some time to ourselves. I picked the anchoring spot off Google Earth, and it turned out to be as nice as it looked from space... nice big sand area in about 25 feet, and off a pretty sand beach.
In spite of all my worries about the weather--there was a "low level circulation" to the SE of us, meandering NW towards us--the weather turned out pretty good for our whole stay. The Low scooted off toward Guam this morning without bringing us any bad weather.
Since no other cruisers we knew about had gone to Mog Mog Island, we had to figure it our for ourselves. Friday morning, Dave got on the VHF radio and called "Mog Mog Island, Mog Mog Island." After a couple of calls, someone actually answered us back! This turned out to be Stanley, who is the official "greeter" for Mog Mog. (Note, the locals pronounce it more like "Mo Mo").
Dave asked permission for us to come and anchor at their island and come ashore, and get a tour around. When we arrived in front of Mog Mog, Stanley was waiting for us on the beach. Stanley turned out to be similar to Matthais at Woleai--he had grown up on Mog Mog, and ended up in government service in Yap. He had recently retired from his job as liaison for the Yap Governer, and was enjoying the slow pace of life back on his home island.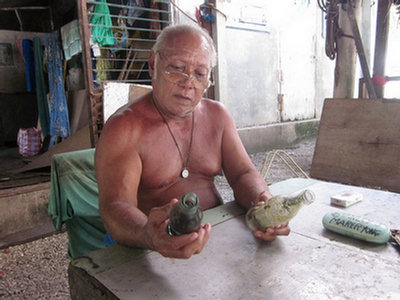 Stanley Checking Out Dave's Coke Bottles
We kept waiting for Stanley to ask for paperwork, or money, but he did neither--a pleasant surprise. Dave asked if he could get a tour of the island--specifically the former US Navy facilities. Stanley opted to take us himself. He told Dave up front that there wasn't much to see--and he was right. In the 70 years since the fleet was in Ulithi Atoll, between time, typhoons, and scavenging locals, there was almost nothing left of the old facilities, besides the rusting remnants of piers we had seen on our way in.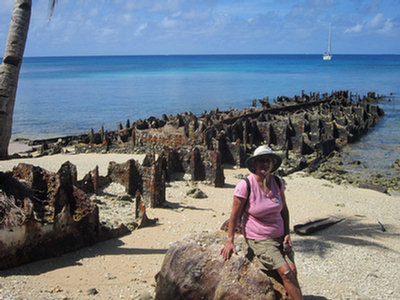 The "Officer's Pier"
Stanley told us that one pier was for officers and one for enlisted men. We saw the remains of a seaplane ramp--a few flat bits of concrete. But where the old hospital was (according to Stanley), there was nothing left. Stanley walked us nearly all the way around the small island, on the old "Navy Road", which is now more like a wide path than a road.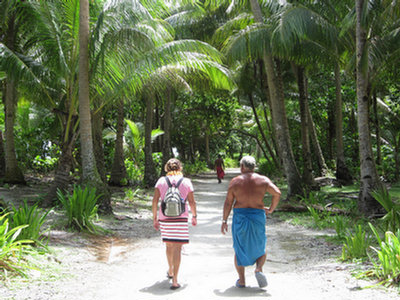 Sherry & Stanley on the Old Navy Road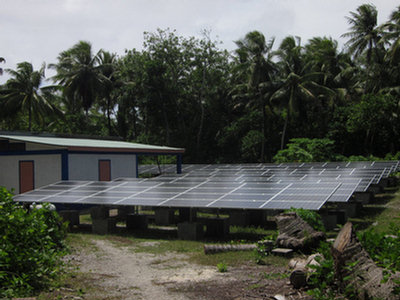 Mog Mog's New Solar System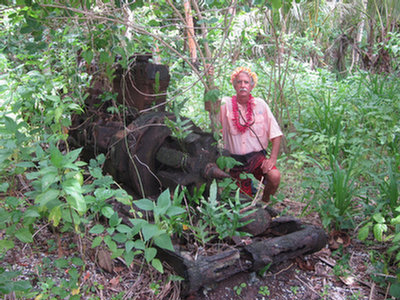 Remnants of the American Presence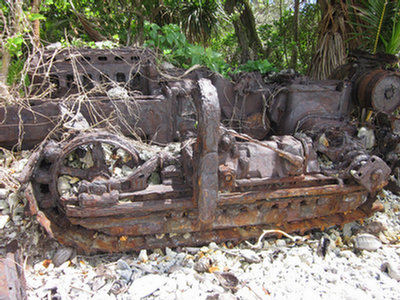 More Old Machines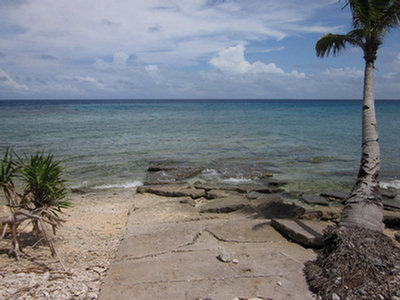 Seaplane Ramp
Another request that Dave had was "old Coke bottles". He had heard from someone that Ulithi, like Majuro, having been a big R&R facility during the war, had old Coke bottles laying around. Stanley took us to the former dump (now their taro patch), and we rooted around in the dirt and found a couple of 1944 Coke bottles (the month and year that the bottle was made is stamped on the bottle). Dave has been contacted by a friend of a friend who's an executive with Coca Cola in Atlanta who asked for a couple of old bottles for their collection.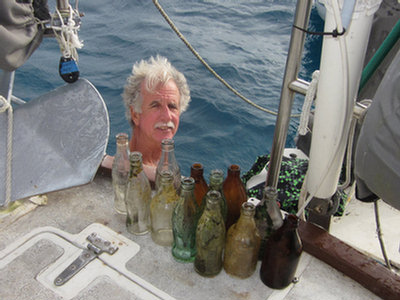 Dave and His 1944/1945 Coke Bottles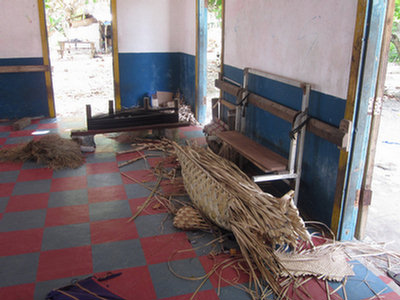 The Women's Meeting House on Mog Mog (Prohibited to Men)
The wind came up in the afternoon, more easterly than forecast, so the anchorage off Mog Mog wasn't very good. We motored the short distance back to Sorlen and enjoyed another quiet night by ourselves there. Before we left Mog Mog, Dave asked Stanley for permission to go ashore on Sorlen. Stanley said that island didn't belong to Mog Mog, but he would ask someone who could give us permission. The next morning Stanley called us on VHF to say we could go ashore.
There is another old metal pier at Sorlen, and just inshore of that, a concrete building that looked like someone's home, now abandoned. There was a nice grave next to the house with lots of flowers on it. We spent the morning poking around the beaches of Sorlen, looking for World War II era traces. There were hunks of metal in various spots off the beach--mostly unidentifiable. And there were a few concrete pads we found. Dave found a couple of bullets and shell casings of various sizes embedded in the coral on the rocky shore. We checked a portion of the windward beach to see if there were any glass balls there, but found nothing but lots of abandoned shoes, plastic bottles, and fishing floats of various sizes and configurations.
We also saw a 3-foot monitor lizard run out of the dense coconut palm thicket, down the beach and into the water. Dave tried to get a picture of it on its way back up the beach, but we're not sure how well it came out.
We had a nice steak and baked potato dinner for Dave's birthday, and really enjoyed watching the sunset in the solitude of the Sorlen anchorage.
Dave went back to Mog Mog to say goodbye to Stanley (and return a book he had lent us on Micronesia). He took 2 big bunches of bananas with him--as usual, all the bananas we had been given in Woleai when we left came ripe at once, and there was no way we'd be able to eat them. He had fun handing out bananas on the beach to the kids. Stanley also appreciated the gifts of cigarettes, coffee, AA batteries, and a few fishhooks Dave gave him. Plus Dave took a few paperbacks in for one of the men who'd asked us for reading material the day before.
This morning, we up-anchored from our pretty little anchorage at Sorlen and headed south inside the atoll to check out the wreck site of the USS Mississinewa. This ship was torpedoed by a Japanese "manned torpedo" (or mini-sub) while at anchor in Ulithi on 20 November 1944. We had 3 different waypoints for the ship--one from Wikipedia, one from a US Navy report, and one indicated on our CM93 chart. Arriving in the area, we motored around the 3 waypoints (close but not on top of each other) and were very surprised to find that the one from the chart was the correct waypoint. Once we found the ship (using our fishfinder depthsounder, we could see it's profile as we went over it), we looked up and said, "Hey, there's a bouy!". Duh. It wasn't a very big buoy, so it was easy to miss until we were right on top of it.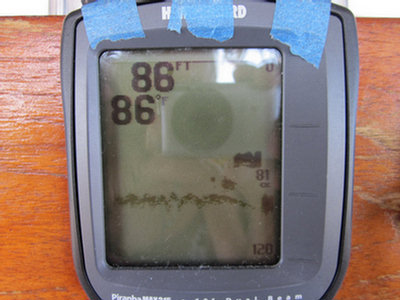 Finding the Mississinewa Using Our Fishfinder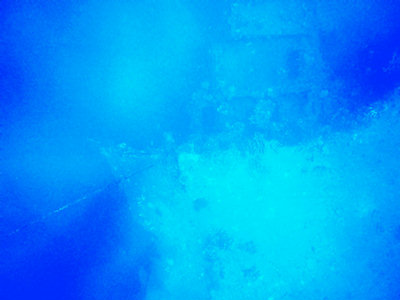 Dave's Snorkel Picture of the Mississinewa Bow
I tried to get Dave interested in making a short dive on the Mississinewa while I waited onboard Soggy Paws (without anchoring), but he thought that was too risky. So he jumped in with mask and fins and snorkel and just looked at it from snorkel depths. He could clearly see the bow section about 70 feet below him. He took a picture. That was good enough to say "mission accomplished" on that one.
We left by one of many breaks in the reef on the west side of the atoll at 10am this morning, and are on our way to Yap right now (ETA tomorrow morning).
All our anchoring, pass, and wreck waypoints are written up in our Micronesia Compendium, if you are interested in details.
-----
At 04/27/2014 10:39 AM (utc) our position was 09°51.63'N 139°04.62'E