We eagerly watched for the Blood Moon eclipse at near sunset yesterday, but persistent squally weather in the area blocked everything out until it was all over.
Otherwise, we've had a decent overnight passage... light winds and easy sailing. However, we haven't been able to make either the course or speed we planned for. So at 7am this morning, we reluctantly pulled in the genoa and turned on the engine, so we get in to Woleai before dark (about 40 miles to go).
La Gitana, who left Olimarao a couple of hours after us, and has gone a little faster and pointed a little higher than us, is still sailing. Since Woleai has a fairly wide pass, and we have good Google Earth charts, they are planning to come in after dark.
Westward II and Kokomo have been in Woleai for nearly 2 weeks, waiting for enough wind to sail to Palau. Guess we'll all spend Easter together in Woleai, and then hope for a little wind.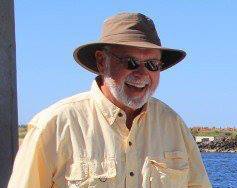 I want to send a huge CONGRATULATIONS to our friend Kennedy, on s/v Far Star, who just completed his single-handed Circumnavigation, by crossing his track in Grenada. We traveled in and out of company with Far Star for nearly a two years, and last shared an anchorage with Kennedy in Fiji. For the last year I've been saying, "If Kennedy, an early 60's retired lawyer in a 38 foot boat, can make it around South Africa by himself, we can too!!" Way to go, Kennedy!! Have a cold Caribe for us!!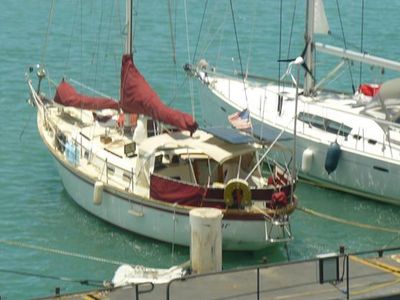 Far Star