In Tonga on Sunday, EVERYTHING is closed, and it is actually against the law to work. We could get away with it out on the boat away from town, but with our last major repair/maintenance item completed, and with a windy and cool Fall day, we decided it was a good time to finally hike up to Mt. Talau.
At 131 meters, Mt. Talau is the highest point in Vava'u, but this is definitely not a tough hike. It is close to Neiafu town, and most of the hike is on paved or dirt roads. When you get close to Mt. Talau, the only hard part is finding the correct path up to the mountain.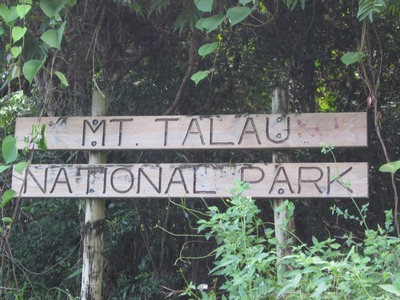 Mt. Talau Sign
Fortunately, our friends on s/v Forty Two had told us that we should take the turn BEFORE this sign, not continue down the road next to the sign, like they did. This road apparently continues on around the base of the mountain, and not up to the top.
You know you are on the right path when you encounter this sign: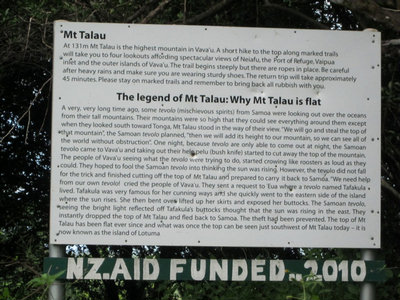 Sign with the Legend of Mt. Talau
This explains the Tongan legend as to why Mt. Talau is flat on top. It is so typically Tongan (and quite cute).
The views from the top are outstanding, and we picked a great day for pictures.
Great View of Neiafu Harbor
Closeup of Neiafu Town (with the Eastern Reef in the Background)
Soggy Paws on the West Side of Neiafu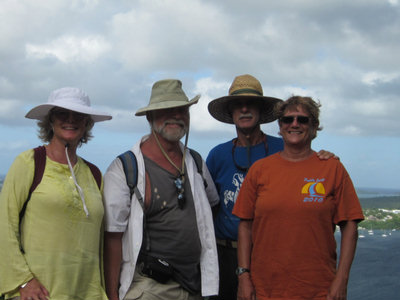 Us and Changing Spots at the Top
On our way up, we encountered children on their way to church. It was some kind of special day for the children at the Wesleyan Church, and they and their parents were ALL decked out.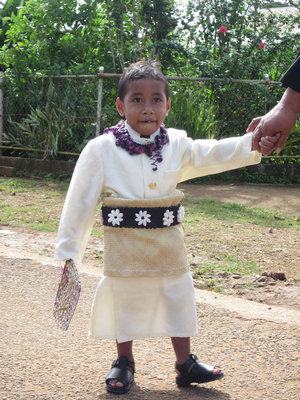 Young Tongan Boy On His Way to Church
Notice his tiny 'mat' around his waist. This the Tongan version of a tie--you are not properly dressed, for formal occasions, without your mat. Notice that Mom had firm hold of his hand, making sure he didn't get messed up on his walk to church.
Here is another character we encountered on our walk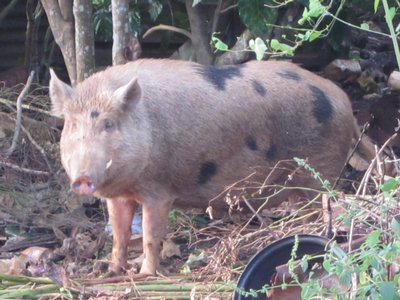 Big Pig On The Side of the Road
Pigs are a fact of life in Vavau. Almost every house outside of town has a litter of pigs loitering around. The baby pigs are quite cute as they skip around and wiggle their curly little tails.