The last thing on our Vavau 'Bucket List' from a tourist standpoint was a visit to the
Ene'Io Botanical Gardens
. We had a quick visit on our day trip around Vavau a month or so ago, but didn't get to actually tour the gardens.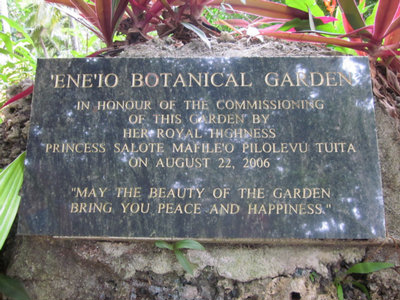 So, with our friends from Changing Spots, we arranged for Primrose (Taxi) to take us out to the Botanical Gardens at the other end of the island. We called ahead the day before to make a reservation for lunch (required, if you want to eat).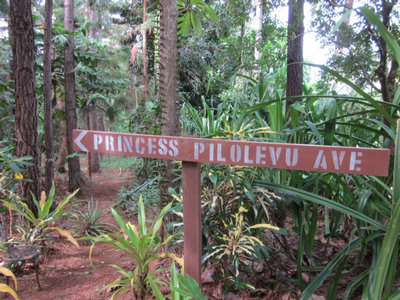 The Main Drag in the Gardens, Sponsored by Princess Pilolevu of the Royal Family
When we arrived, we were dismayed to find that Haniteli Fa'anunu, the Tongan who's passion for plants started the gardens back 50 years ago when he was a teenager, was not there. However, we were delighted to find that Lucy, his wife, was just as knowledgeable, and almost as passionate, as Haniteli.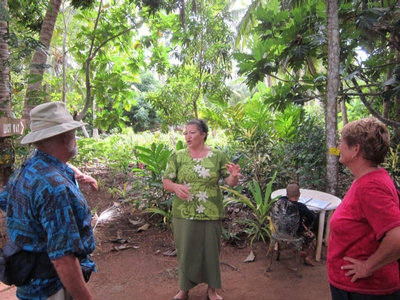 Lucy Explains the Native Plants to Us
Haniteli served for many years in the Tonga Ministry of Agriculture. In that capacity, he has been all over Tonga, and all over the world, collecting plants for the Botanical Gardens. His first passion is to preserve the diversity of native Tongan plants for future generations of Tongans. But the gardens also have a variety of imported plants as well.
The plants are well labeled with local Tongan names, as well as the common Western names, and their uses in Tonga. Many are medicinal and food value plants. Lucy explained their uses, and often the preparation for that use, in detail to us. Lucy has taken an active role in helping the women of Vavau produce and market their weavings, and she explained the whole (extensive) process to us.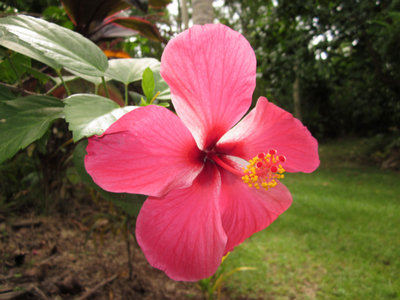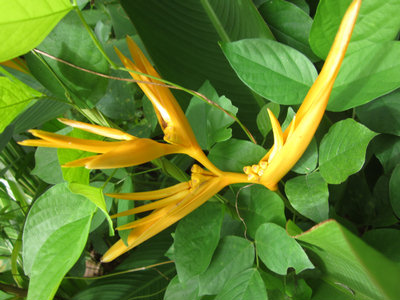 Yellow Ginger
During the 'Season', or when a cruise ship is in Vavau, they also hold Tongan Feasts and other Tongan cultural events. Their beach is also popular with tourists and locals alike.
We had a great lunch there, too, complete with Ene'Io's home-made 100% organic taro chips (delicious!).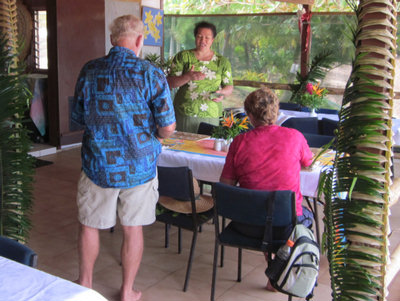 Lunch on their Waterfront Cafe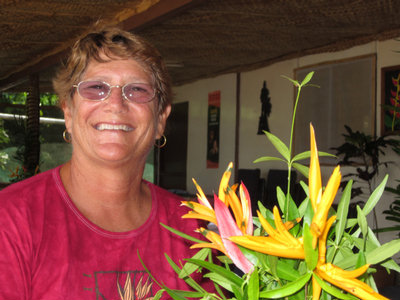 Sherry Loves the Exotic Centerpiece
For plant lovers, or those interested in Tongan customs and lore, this is a 'don't miss' visit in Vavau.