As I mentioned a week ago, we found a couple of broken strands at the top of the headstay during our regular pre-season rig inspection.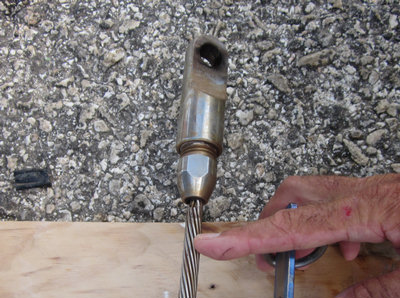 Broken Strands on Headstay
So we pulled into the 'Fisheries' dock in the harbor on Saturday to repair the headstay. We got Rob and Pauline from Changing Spots to help us.
The first step was to take down the sail, which we did the night before when the wind was light. (Dave originally thought we could do it with the sail still furled on the headstay, but we thought the weight of the sail would make things pretty unmangeable).
Second, we disconnected the headstay (with the furling drum still attached) at the bottom, and pulled it gently out on the dock with a short line.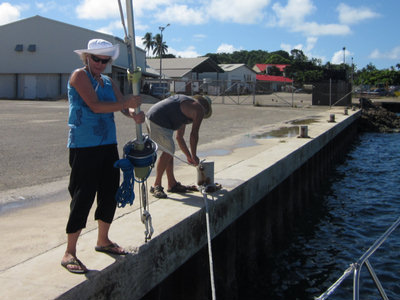 Rob & Pauline With Lower End of Headstay
Next, we cranked Dave up the mast on the main halyard, with the genoa halyard still attached to the upper swivel of the roller furler. I then tensioned the genoa halyard an inch or two, to take the pressure off the headstay terminal clevis pin. Dave pulled the pin, disconnecting the headstay from the top of the mast.
Then we let Dave back down to the deck, so he could help with the headstay. With Dave and Rob and Pauline on the dock, I let the halyard down, easing the headstay down slowly. It is important to support the headstay as much as possible, to avoid kinking the aluminum extrusion for the roller furling.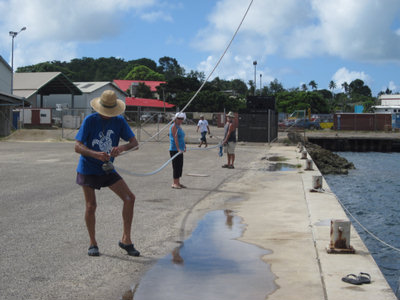 Headstay On The Dock
Once the headstay was completely on the dock alongside the boat, Dave cranked up our small Honda generator, and cut the headstay about an inch below the break. He used a grinder with a cutting wheel, while Rob supported the headstay for him.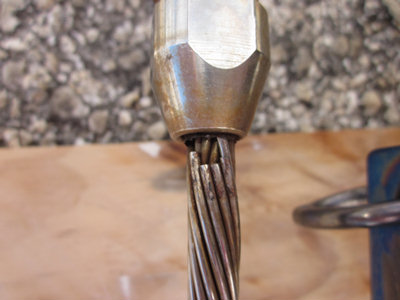 We Get A Close Look At The Broken Strands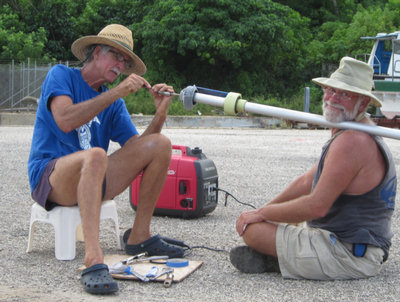 Rob Supports the End While Dave Gets Ready To Cut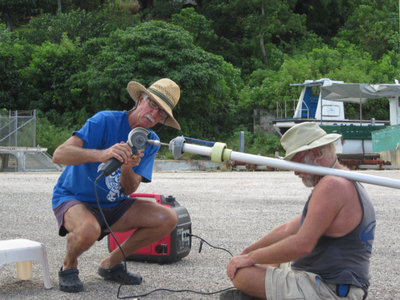 Dave Cuts the Headstay Below the Broken Strands
Dave unscrewed the Staylok fitting from the broken piece, cleaned it up, and using a new Staylok 'cone' put the re-usable fitting on the new end of the forestay.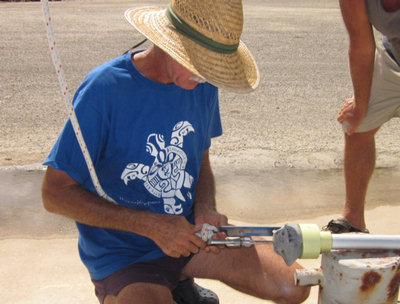 Repaired Forestay Ready to Hoist
Then we reversed the process, pulling the forestay back to the top of the mast with the halyard. We put an extra 'toggle' at the top of the mast, to replace the length of headstay that was cut off, and to provide another flex point. One theory Dave has as to why the strands broke is that flexing at the top of the mast 'hardened' the metal, making it brittle.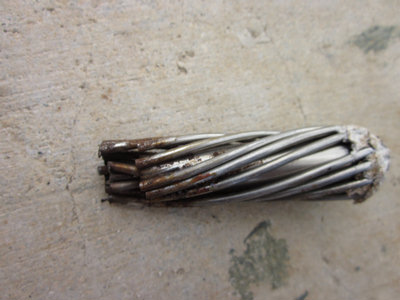 Broken Strands with Fitting Removed
The whole thing only took about 4 hours. The hardest part of the whole process was getting off the dock in the afternoon after the SE wind picked up. (Rob had to help pull our bow out with his dinghy).
We'll keep a close eye on that part of the forestay, and for sure plan to replace that wire within the next year.