Yesterday our fiberglass guy did a lot of grinding on the port side. The wind was light and the dust swirled all over the boat. Since the previous grinding had been on a windy day, we weren't expecting so much dust, and we weren't as closed up as we should have been. Fiberglass dust everywhere! (but not too much down below). Fortunately I hadn't yet started doing the laundry, so at least we don't have fiberglass dust all over our clothes. So now, instead of looking at the sky and hoping for no rain, we are looking at the sky and hoping for rain. Of course, it's a nice sunny day today.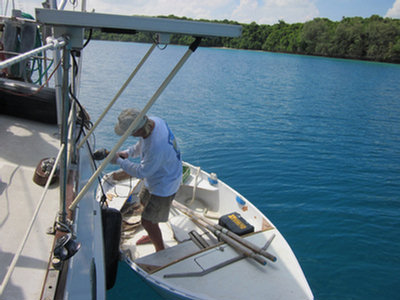 Our Fiberglass Guy at Work
I think today our expert is doing the last day of fiberglassing on the port side. He is currently grinding and smoothing what he did yesterday--while I'm closed inside the cabin with all the hatches shut, to keep the dust out. He said he has about 2 more final layers of cloth to lay on that side, then the final round of filling and fairing tomorrow.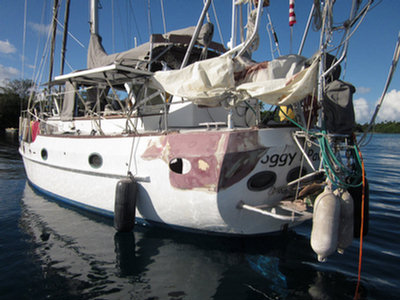 Nearly Ready for Paint
The starboard side porthole is also coming along--he put about 6 layers on that early this morning. And plans 3-4 more layers later today. So we're still here for a couple more days. But we may finally be getting close enough to being done with the fiberglass work to be able to clean up and move back into our aft cabin in the next day or so.
Meanwhile, Dave has been doing some rigging work, and doing a pre-season inspection of the whole rig. Yesterday he found 4 broken strands in the headstay wire at the top of the mast, just where it goes into the Stay-lok fitting. That's not good (but exactly why we do a full rig inspection prior to every major passage). For non-sailors, the headstay is the big wire on the front of the rig that holds the mast up. A broken headstay can mean a dismasting (mast falls down), which is very expensive, and potentially life-threatening and boat-threatening. We'll have to repair that before we can go anywhere. *sigh*
Fortunately it is self-repairable with a day or two's worth of work, and Dave has the skills and the tools to do it himself. We might not even have to take the sail off the headstay. For now, he'll just cut off a few inches of the headstay, and replace that length with one of our spare toggles. It's pretty easy with the Stay-lok fitting. This will get us by until we can get an entire new length of wire from the U.S. Assuming the repair looks OK (no new broken strands after a couple of days sailing), we can wait to bring the wire back with us in our luggage after our trip home in the fall, to replace the whole headstay (which is now about 12 years old).