We transitted the south coast of Singapore on Friday. It was a nerve-wracking experience with ships everywhere.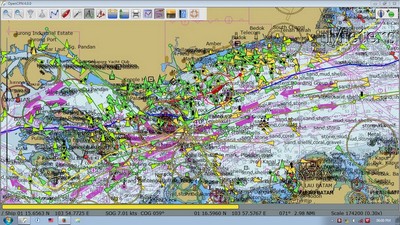 The Busy Harbor of Singapore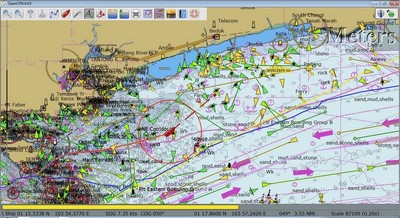 The Busy Harbor of Singapore
Even the Vesper Marine AIS was almost useless there were so many targets. It was most useful feeding the AIS into OpenCPN, but neither laptop I had was happy with so much activity on the USB bus. (Not quite sure what was going on, but it was frustrating. I kept getting USB Device Not Recognized--not sure if it was heat or too much activity, or both). (Several days later I discovered that the problems were caused by a very "noisy" inverter. Once I turned the inverter off, I never had another USB serial port problem, but we were gone from Singapore by then)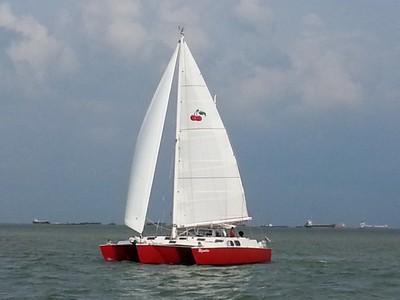 Migration Looking Very Pretty
We made it safely into the anchorage in Malaysian waters on the east side of Singapore by 5pm, and were joined by our friends on Migration. We have been following Migration ever since we got in the Pacific-always a year or two behind them. But they just finished a 2 year refit in Thailand (which Bruce DOESN'T recommend), and so we finally got to meet them in person.
We rowed over to their boat for happy hour on their voluminous (trimaran) deck. The boat is gorgeous--so the refit was successful in the end (it's a 45 year old 46 ft Cross tri, but now looks brand new).
We left this anchorage yesterday morning and headed on our 702 nm trip to Labuan, on the coast of Borneo. There is lots to see in Borneo that we are skipping by, including the Rainforest Festival near Kuching. But we just can't see everything.
We are in the SW Monsoon season, so the winds are southerly. Since we got clear of the channel and turned the engines off, we've been sailing at 7-8 knots. We put one reef in the main when the daily wind came up, and another in this morning in squally weather. And we're still doing 7 knots. We have about 530 NM to go to Labuan.
With a 3rd person on board, watches and sailhandling have been easy. Kevin has been very useful in helping us figure out all the boat systems. (I have a blog half-written about all that stuff, but want to get the passage report in...)
All is well, ETA Labuan Wednesday afternoon local time, if we keep this speed up. (But softer wind is in the forecast).
----------
radio email processed by SailMail
for information see:
http://www.sailmail.com