Amazingly, we were launched on schedule on June 29.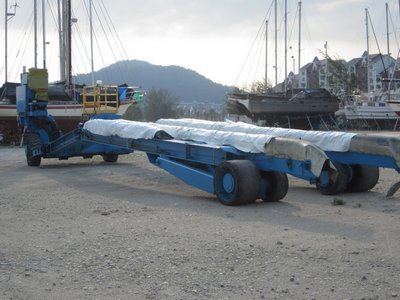 The Pangkor Marina Lift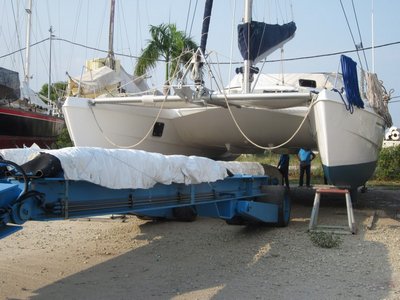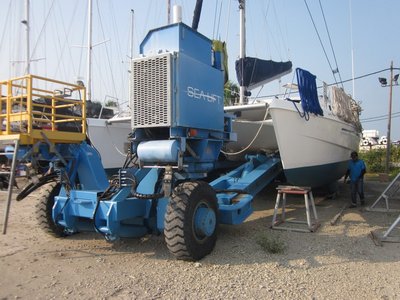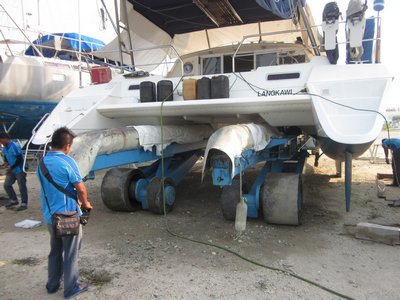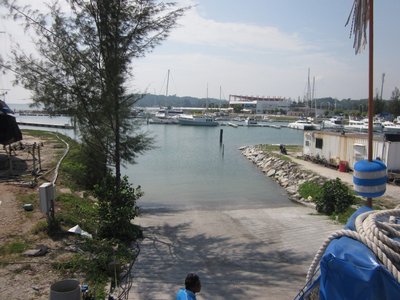 Here We Go!
As soon as we were in the water, Dave turned on the engines. We held our breath that everything would start. The engines started right up, thankfully. But there was only a dribble of cooling water coming out. We only had 100 yards to go, downwind, to the dock, so we backed right off the lift, quickly motored to the dock, and shut the engines down. Once we were safely tied up, Dave got the Port Engine cooling water going by just revving up the engine some. But the Starboard engine still wasn't pumping water. It took a whole day, and a phone call to John, the Previous Owner, for him to work through the possible issues and get that going.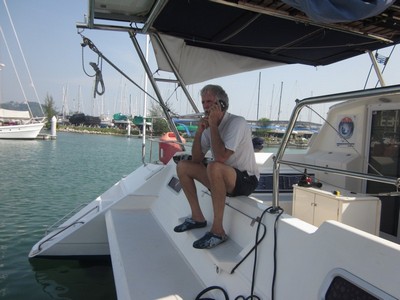 Dave on Skype with the Previous Owner in NZ
Meanwhile, our friend Kevin from s/v Miss Behave joined us from Australia. We met Kevin and Irina on their beautiful boat in Palau last year, and Kevin was one of the guys who went with Dave on the second trip to Pelelieu. Kevin jumped at the chance to come have another adventure with Dave. (Thank you, Irina, Kevin has been a blessing)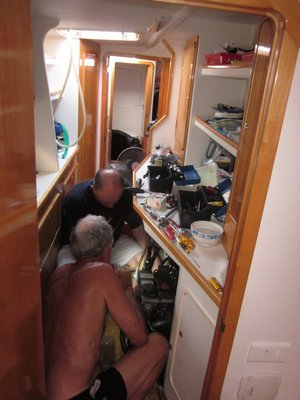 Kevin and Dave Working on the Starboard Engine Cooling Water System
Luckily, it was no major issue, just cleaning up a bit, and we had both engines running smoothly.
The next problem holding up our departure was the Windlass. It hadn't worked at all when we surveyed Blue Moon before we purchased her. But John, the PO, assured us that it had been working well, so we figured it would be no big deal to get it going again. We quickly narrowed the problem down to the solenoid--it would go down and not up. A bit of banging and checking wires and contacts didn't solve the problem, so Dave took the solenoid out and tried to open it up. It's a nicely sealed unit, and opening up was a problem, especially with not much in the way of tools aboard. He finally borrowed a Dremel from another boater and got inside. A few minutes cleaning up corrosion and it was working again.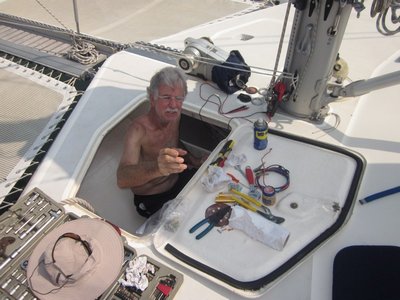 Dave Working on the Windlass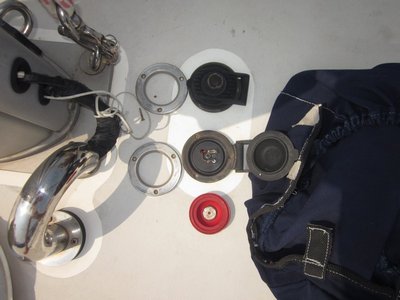 These Windlass Foot Switches Were Not the Problem!
Meanwhile, my job was helping Dave clean out the lockers, provisioning, and continuing to work on our cash payment issues. On Monday, James Koo, the very helpful Pangkor Marina Manager, took us out in his car to help us find what we were looking for. In 2 short hours, we visited 3-4 hardware stores and a bank, and came away with all the hardware bits Dave was looking for, and our Western Union Cash Advance. It took almost an hour to get the money--lots of paperwork, and the international computer system was down--but it all worked well in the end, and I would use Western Union again in a similar situation.
Of course, Dave didn't take any pictures of me on my hands and knees scrubbing the yard dirt off the boat canvas, but here's a "looking in lockers" photo.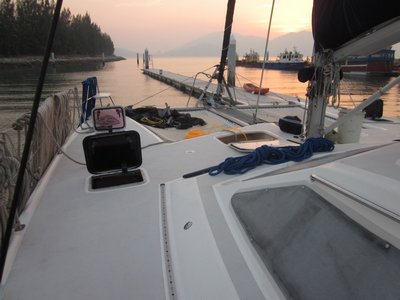 Trying to Sort Through the Lockers
Another thing on my list was applying the new name on the stern. We also bought some big name appliques for the bow, with the requisit paw print, but applying those hasn't made it to the top of the list yet.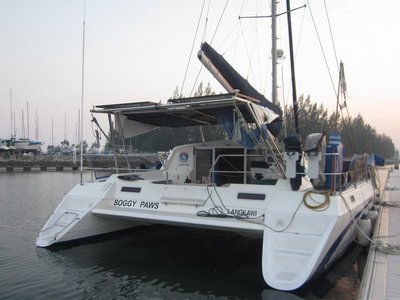 The New Soggy Paws
One of my good friends asked "What did you do for a re-naming ceremony?" My answer: "I applied the new name!"
So stocked up, crewed up, and the critical maintenance items dones, we are taking off this afternoon to head north to Penang for a short visit. We won't get off until late, so we'll spend the night at an anchorage just 10 miles north of Pangkor, and get an early start in the morning.