Our first task on getting underway was to head for Penang, where we planned to meet up with a surveyor, to get a formal survey for the new Soggy Paws. Our new insurance company, Topsail, from the UK, doesn't actually require a survey for insurance purposes. But they do require a "rig survey" for any boat with rigging over 12 years old.
After inquiring of several surveyors in Malaysia and Singapore, none of whom were available in the next month, and all of whom wanted an arm and a leg, we got wind of a cruising guy in Langkawi who does surveys for a reasonable price. Better yet, he was planning to spend a few weeks cruising in Penang (halfway between Langkawi and Pangkor). And even better yet, this kind soul offered to bring our new dinghy down to Penang for us...eliminating all the need for going another 70 miles north to Langkawi before we set off south for the Philippines.
After a stop overnight at Pulau Talang (04-25.02N / 100-34.56E in light NNE winds), we headed north for Penang.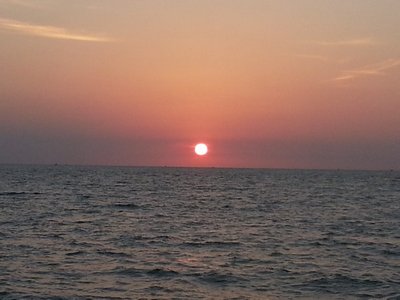 Ahhh, Finally at Anchor!!
It was a long, but uneventful light-air motorsail.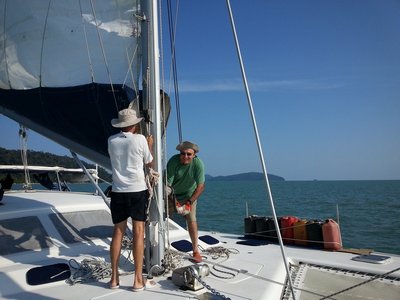 Kevin Cranking the Main Up for the First Time
On approaching Penang from the south, the first thing you notice is the "new" bridge, which doesn't show up on our 2010 CM93 chart. Even on the brand-new-constantly-updated Navionics and Jeppeson/C-Map charts on our Android, the bridge is only drawn in as a black line, with no height information at all. Fortunately we had already been assured that there was plenty of height for us. There are no height markings on the bridge itself at all.
Around 6pm we anchored next to Geoff's boat, Arnak, in a protected spot next to Pulau Jerejak (05-20.66N / 100-18.91E ). Within a few minutes, Geoff came rowing over in our new dinghy. It's a very nice 10ft Aluminum Bottom RIB built by APUS in Langkawi. Not exactly what we would have bought had we had time to shop around and ship something in, but we needed something for this trip and to leave with the old Soggy Paws when we sell her.
The next day, Geoff came over and did a thorough survey and we spent a lot of time chatting about cruising things in general. We were sorry we were in such a hurry that we didn't get a chance to socialize with them a bit more.
Dave spent the afternoon getting the 5hp outboard running properly.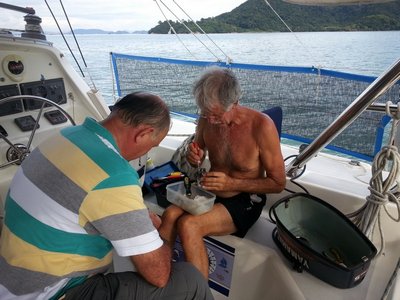 Dave and Kevin Working on the Outboard
The first problem we ran into was the squeeze bulb on the fuel tank was completely shot. Fortunately, Geoff had a used spare that he let us buy from him. Meanwhile, Kevin was on his hands and knees in the Stbd Forward Head, working on clearing the blockages in the lines. Later he did the same in the Aft Head. What a good crew!
Finally, just before sunset, Dave called the outboard "good enough", and we were able to go ashore for a meal. The outboard still needs a little carb work--it stalls as soon as you throttle back--but the crew was clamoring for "shore leave", so he had to give it up. The current runs pretty swiftly in the anchorage area (in both directions according to the tide), so we really needed a working outboard to get ashore.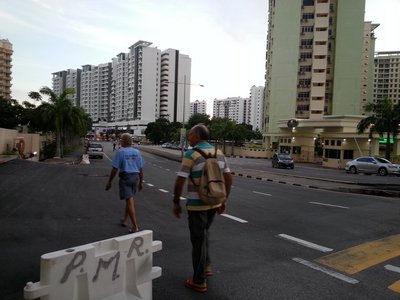 Shore Leave!!
We had a nice--but pricey--meal at a Japanese cook-it-yourself-on-the-table. We were headed for the stalls at the market, but the lure of cold beer and air conditioning sucked us in to the restaurant.
We left at the crack of dawn the next morning, to start heading south towards Singapore.