Besides the fact that it was on our way, the main reason we stopped in Singapore was to pick up some new refrigeration equipment.
The new boat has a tiny dorm-room type refrigerator and a very large freezer. We could live with the tiny fridge by putting a lot of stuff in the freezer, but then you are in and out of the freezer all the time, and it's very inefficient. So Dave wants to build a proper refrig, so we can save and store massive amounts of veggies and cheese, like we do on the old Soggy Paws.
We had thought we'd have to ship a new Frigoboat system in from the U.S., but we got creative and started looking around regionally. We did find a dealer in the Philippines, but his prices weren't very competitive (30% import duty). We finally found a great deal--duty free in Singapore, and we arranged to pick it up at Raffles Marina when we went by Singapore.
We didn't really want to go into Singapore itself with the boat. Raffles Marina is expensive, and clearing in to Singapore is expensive and time consuming. So Dave wanted to stay in Malaysia, but drive into Singapore to pick our equipment up. This turned out to be logistically more difficult than we imagined. We figured we'd just rent a car for a day for $30-$40 and just drive over and pick it up. Or hire a taxi to do same. Unfortunately, none of the car rentals will let you cross into Singapore from Malaysia. And the taxi drivers we talked to all wanted around $100 to make the trip.
So Dave asked around, and rounded up Kevin and another friend, and they did it by bus. Bus-bus-(immigration stop at the border)-bus-taxi to Raffles. Lunch at the Raffles employee cafeteria (the regular restaurant was shockingly expensive). Then taxi-bus-(immigration stop)-bus-bus. For 3 people (and boxes), the whole thing cost about $40 including lunch. And, did I mention, we picked up not one, but THREE refer systems (2 for friends).
The only problem was, coming back across the border to Malaysia with boxes in hand, a Customs guy wanted Dave to pay 30% duty. Dave tried to tell him the "yacht in transit" story, but we forgot that we are Malaysian registered, and therefore don't qualify as a foreign yacht in transit. He wanted us to go across the street and fill out reams of paperwork. Finally Dave asked to talk to a supervisor. Dave explained the whole situation to him--that all these units were headed out of the country on our yacht, which was only temporarily Malaysian registered. He must have been pretty persuasive. The guy let him through with no duty and no paperwork.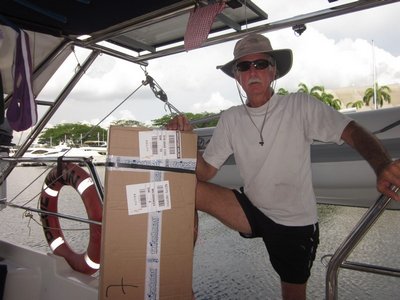 Our Next Frigoboat Project
The Puteri Resort and Apartment Complex is pretty extensive. The original idea, beyond the standard resort concept, was to be a place for people who worked in Singapore to live more cheaply than Singapore. There is a ferry terminal and a nice Customs/Immigration building. A short ferry ride each day delivers Malaysian workers to jobs in Singapore. But the developers forgot to clear the idea with the Singapore officials. So far the ferry only services a route to Indonesia, not Singapore right across the canal.
The marina is pretty nice, with nice clean showers and a working do-it-yourself laundromat. There is a very upscale bar on top of the resort with an "infinity pool" and a workout room with showers. The marina has a shuttle bus that runs to the nearby huge mall a couple of times a week, and to the "Night Market" (a nearby local market with food stalls). Life is easy there and some people we met have been in the marina for a couple of years. (Indonesia and Malaysia are the "Caribbean" of Australia... lots and lots of Aussies here on their 2-3 year cruising adventure).
We did lots of projects while we were there, including a massive top-up on diesel, from jugs. Malaysia is another subsidized fuel place, and like the last place like that we were in (Ecuador), selling fuel to foreigners is a regulated process. So most marinas just don't. But there's always a helpful guy... Though the gas station price of diesel in Malaysia is about 2 Ringgits (50 cents) a liter, to have it delivered to your boat in a 5-gallon jug, the price is 3 ringgits a liter. This is a huge rip-off, but the markup is about what you'd spend to rent a car and do it yourself, and a whole lot less work on your part.
We are starting to sort out the fairly complicated electrical system. We discovered once we'd gotten all the right switches in the right place, that our start battery was pretty much stone dead. "Oh, that's why the Link 2000 says 10 volts when you switch it to the start battery." Dave picked up a new start battery at the night market, but we still have to figure out how everything is getting charged.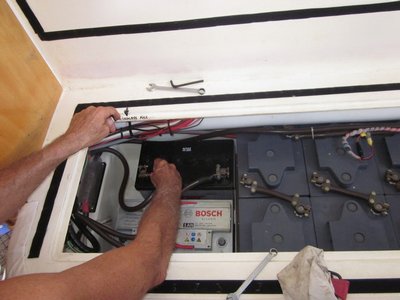 Sorting Out The Batteries
I got the Soggy Paws names on the bow, finally.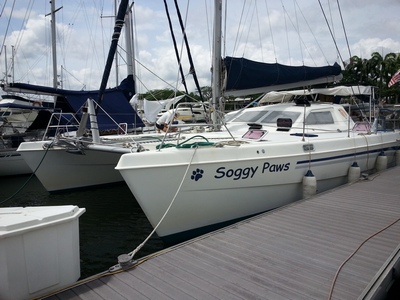 The Final Step of our Renaming Ritual
Impala left the day before we did, to beat down the Sunda Strait and around the SE end of Sumatra, before heading west for the Indian Ocean. We've been running into Nick since we met them, just dismasted, in Ecuador. Not sure the next time we'll run into him. That's the tough part of making such good friends from all over the world when cruising.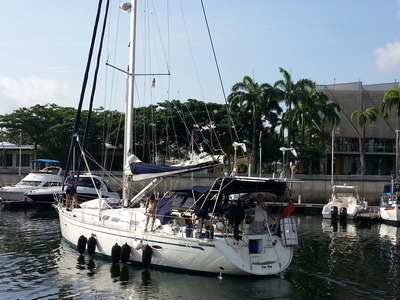 Impala Heads for the Indian Ocean...and Ultimately the Mediterranean