Once we left Penang, we day-hopped, in long days, into light south-southeasterlies, for the 340 miles to Singapore. There is a reversing current in the Straits that can run up to 2 knots. We were fortunate that we happened to catch the current cycle right, so our "underway" times were mostly with the current. Most days we were up at the crack of dawn and underway until just about sunset. There is so much fishing activity at night inshore, and so much shipping activity offshore, that day hops are the most prudent way to go.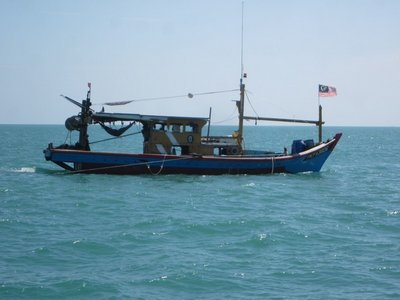 Typical Malaysian Fishing Boat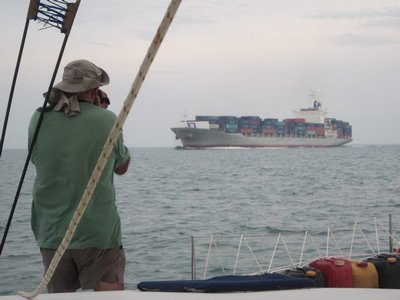 Constant Procession of Big Ships in the Straits
We stopped for an afternoon in Marina Pangkor on our way back through--to top off our water supply and go get a few more provisions & boat misc, including a bowline for the dinghy. We rented the marina car for a few hours and stopped in 4-5 places plus bought another $100 of groceries. We pulled out of the marina at 6pm and anchored out at the SE-most cove at Pangkor Island, to get an early start the next morning.
The next day we were underway at first light for a tiny anchor spot at Pulau Angsa, just north of Port Klang. We motorsailed with both engines on, averaging 5.8 knots for the day. We got the hook down just before dark, after a 73 nm day. (03-11.14N / 101-13.12E).
The next day we had to go through Port Klang, a busy shipping port with a narrow channel and a vicious current. Fortunately our timing was great and we rode a favorable current nearly all day. It was interesting the mix of shipping that we saw going through Port Klang.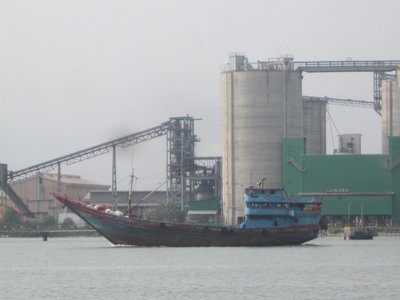 Some of the Strange Boats We Passed in Port Klang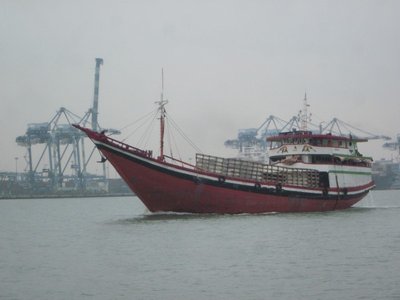 Rounding the point after Port Klang, we could finally head more easterly and actually turned the engines off for a couple of hours. The afternoon winds were whistling up through the Straits to almost 20 knots, so the guys got good practice at reefing our big main. At one point we were doing 7.5 knots through the water and 9 knots over the bottom (with strong current assist).
The wind eventually died and we had to turn the engines back on. We motored into Admiral Marina south of Port Dickson around 4pm. This is another resort/marina that looks like it's failing. There was almost nobody there at the hotel, though the marina was pretty full. Though we're in the middle of Ramadan--most Malaysians defer their vacations until the party time after Ramadan.
We decided to rent a car for a couple of days and drive an hour south to see the old town of Malacca (Melaka), while the boat was secure in the marina. We had a great time walking around the old part of town, but it was blazing hot, so we didn't see as much as we would have liked.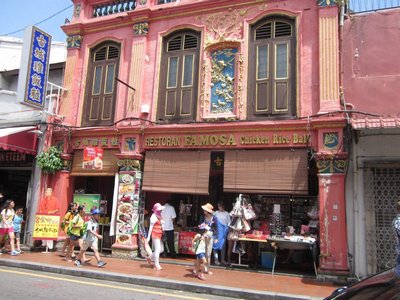 Colorful Tourist Shops in Old Towne Malacca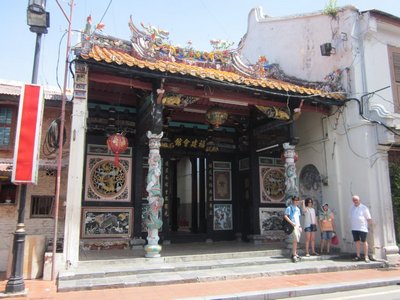 One of the Many Temples in Malacca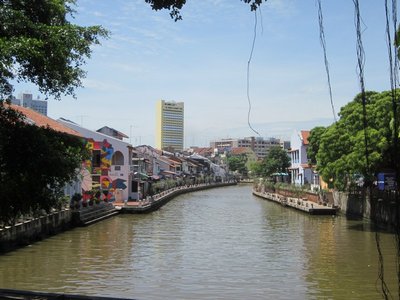 Malacca River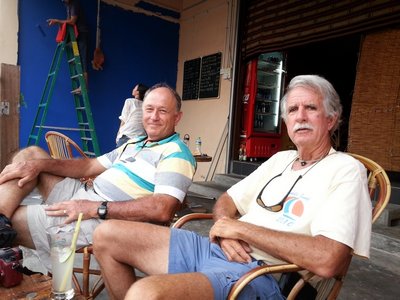 Having a Cold One by the River
Dave was captivated by the old guys who were hand-sifting the mud at the side of the river for old coins. Dave ended up buying quite a few of the old coins and a few other old artifacts. Kevin and I told him they were probably fakes, but he was undeterred. So we have a handful of (maybe genuine) 400 year old Dutch and Portugese coins.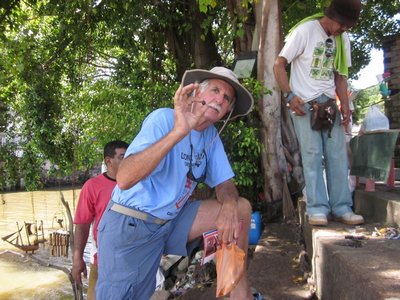 Genuine Malacca Tourist Stuff
We had a memorable meal at the old Portuguese waterfront area a few miles south of Melaka.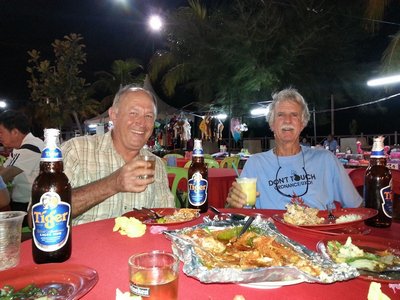 The Best Seafood in Malaysia - At the Portuguese Section of Malacca
On our return to Admiral Marina, we wanted to pull into their fuel dock to top off on diesel, but they said it wasn't working. Fortunately we weren't desperate and could wait til we got to Puteri Marina near Singapore to fuel up.
Three more days of slogging into (mostly) light noserlies and we finally turned the corner into the Johor Strait, the narrow waterway that separates Singapore from mainland Malaysia. We anchored for short overnights at Pulau Besar and Pulau Pisang. (Pulau means Island in Malay, if you haven't figured that out by now).
We pulled into Puteri Marina, a resort/marina complex on the Malaysian side, about 2pm. They put us right next to our friend Nick on Impala. Nick and his pick-up crew are leaving to cross the Indian Ocean in a couple of days.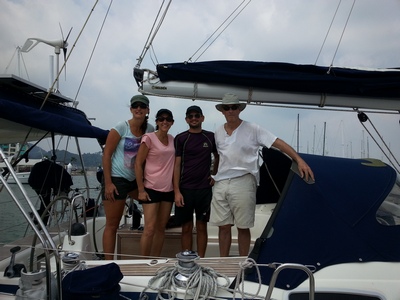 The Intrepid Impala Crew