I do still plan to fill in our adventures around Viti Levu, which include:
- Taking delivery of our shipment in Suva
- A brief cruise from Suva to Vuda Point Marina
- Haulout in Vuda Point Marina
- Whitewater Rafting in the Viti Levu highlands with
Rivers Fiji
- Cruise up the Yasawas
- Cruising back to Savusavu via Nanu-i-Ra
- Back in Savusavu
However, we are now at the Copra Shed Marina dock in Savusavu putting up our new arch. And I know there are a number of people anxious to share this experience with us.
We bought this "Arch in a Box" back in October at the Annapolis Boat Show
(see post)
. It was part of the shipment we received in Savusavu in January. We've been carrying it around on our deck for a month, and we're just now getting around to putting it up.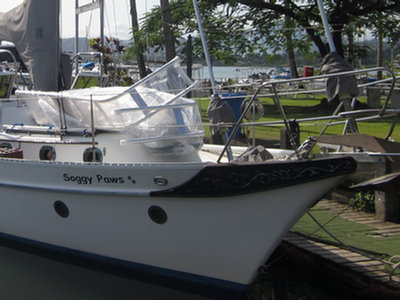 New Arch on Deck, late January
Once we were settled in at a dock from which we could work around the stern, the first step was to disassemble the old arch. This took a whole day.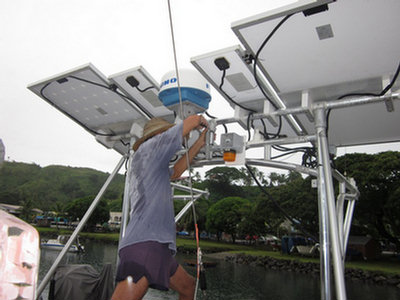 Disassembling the Old Arch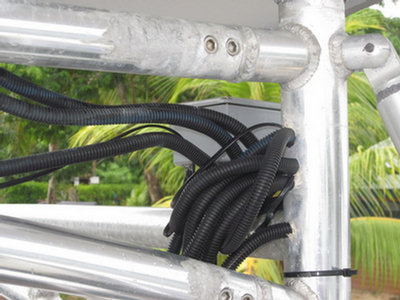 All This Wiring Has to Come Out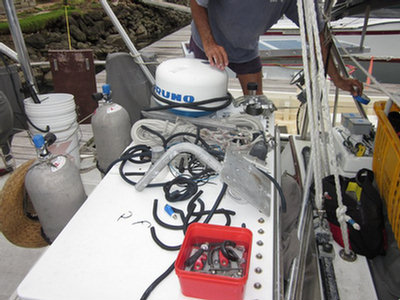 Chaos!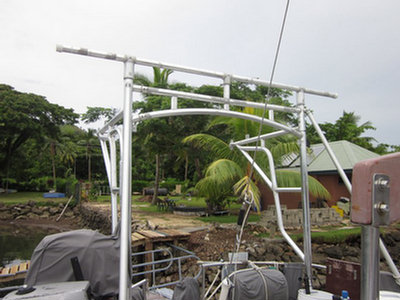 Almost Down
Now the fun part starts!!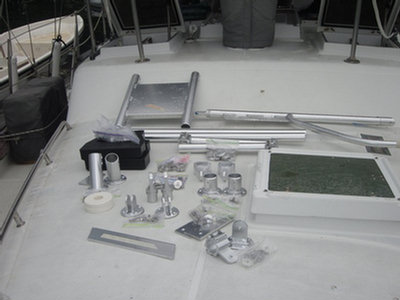 Unpacking all the Small Pieces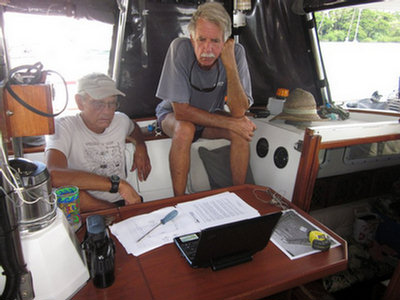 Dave and Jerry Watching the Assembly Video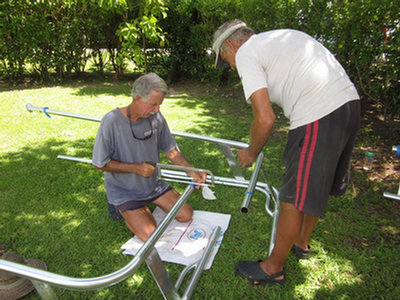 Assembling The Two Halves and Rough Sizing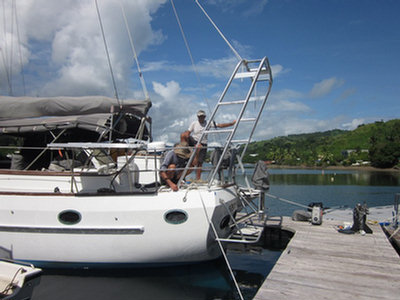 First Fitting (Held Up by Main Halyard)
Once we got the arch in place, we found that our stern pulpit interfered a little bit with the arch (something Dave had worried about all along). At Jerry's suggestion, we "adjusted" the stern pulpit a bit.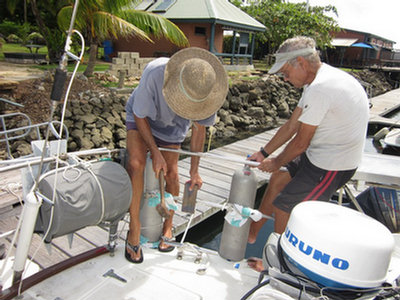 Adjusting the Stern Pulpit
After a bunch of whaling away at it, we had moved it some--enough on the starboard side. But the port side, which was mangled in Cyclone Cyril last year, was still an inch or so too far in. We ended up deciding to cut the port railing--it needs to be replaced eventually anyway.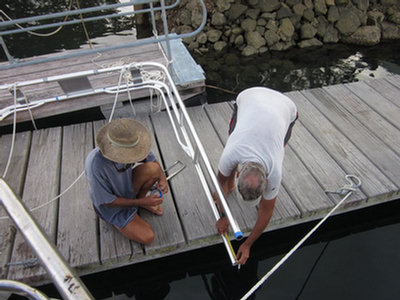 Final Cutting to Adjust the Height
Once we had it more or less in place, we could then see how much the legs needed to be cut off to get the height right. We cut about 8" off the front legs and 5" off the back legs. It's still plenty high, so we can get our dinghy hoisted up over the Monitor Wind Vane when we need to. (And well up out of thieves reach and waves reach).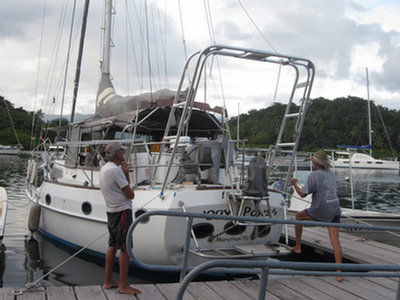 Final Fitting
At the end of the first assembly day, we had the arch pretty much fitted... now we have to drill and tap all the screws, drill the holes into the hull, mount all the stuff (solar panels, stern and anchor light, wind instrument, outboard motor brackets and dinghy lifting gear), re-run the wiring, and patch the holes for the old arch (another 2 days of work at least).
We've sold the old arch pieces to another cruiser, who plans to assemble something similar on their boat.