Dave and Jerry spent a whole nother day drilling holes in the legs and the connector piece to put the bolts in. Then we fitted it again, and drilled a couple of holes in the deck. But it became obvious that we wouldn't get finished before we had to go play.
So we left it bolted together and barely bolted on deck, and spent yesterday preparing to leave Soggy Paws for a week.
We have signed up on a last-minute deal for a week aboard the Tui Tai, a live-aboard "adventure cruise" and dive boat. The cruise leaves today from Savusavu, and we cruise east in Vanua Levu, stopping and visiting villages (hiking, snorkeling, kayaking) and diving.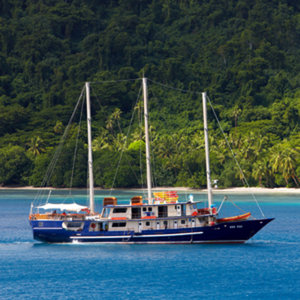 http://tuitai.com
More later...