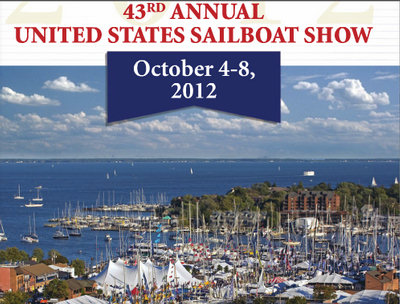 One of the scheduling cornerstones of our trip back to the U.S. this year was the Annapolis Boat Show. In addition to the usual boat show stuff, we were hoping to hook up with good friends Jim Yates and his girlfriend Nancy on s/v Carisma.
And friends Jim and Lynde from
Coppercoat USA
gave us free passes into the show. (We didn't even have to man their booth!). The Coppercoat booth was swarmed most of the weekend. We haven't yet switched over, but may on our next haulout. Jim Yates has had Coppercoat on his bottom for about a year now, and reports that it's doing well.
Jim has FINALLY gotten underway in Carisma (only 5 years after he told us he'd be ready 'in a few months'). They headed north from Florida about a month ago, for a little shakedown cruise before they set off for the Caribbean. They graciously hustled to Annapolis in time for the boat show, so we'd have a place to stay. They made it to Annapolis about 2 days ahead of us.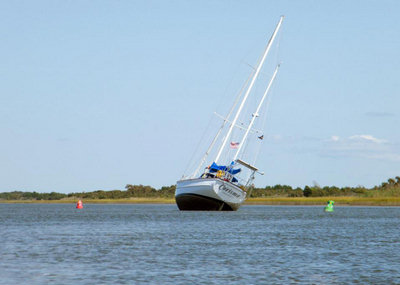 Carisma Aground on the ICW between Charleston and Annapolis
Note that they are IN the channel here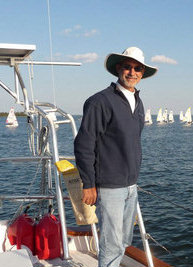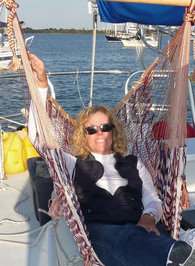 Jim and Nancy
We spent almost two full days at the boat show, and I think we saw every booth in the show. We didn't have much time for checking out boats, though.
We really didn't think we needed much except a couple of blocks, but felt that it's useful to keep up with what's new and hot in the marine business. We did, however, stumble on something we needed, and ultimately purchased--an "Arch in a Box" from
Atlantic Towers
. Our old arch, though functional, is a little ungainly, and it got pretty beat up in Cyclone Cyril in February.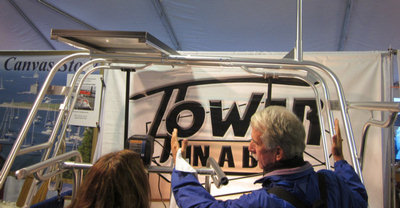 Dave Talking with Shelly Golden of Atlantic Towers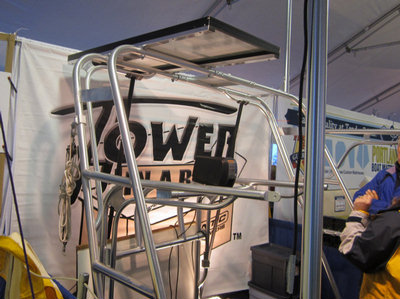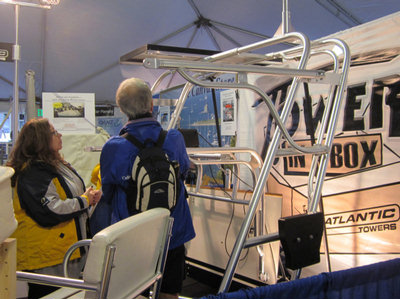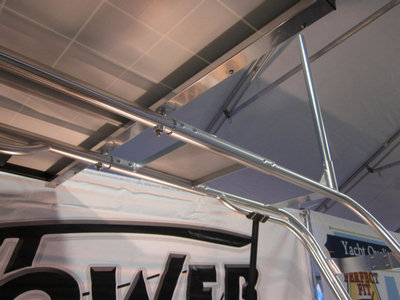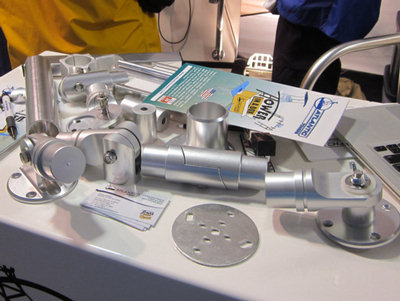 Some of the Mounting Hardware
This arch, in Soggy Paws' size, lists for just under $2,000, including shipping. And it's Made in the USA.
When assembled, we think it will look as good and be as strong as a custom arch, which we priced at about $8,000 in Hawaii.
We added some extras, including mounting hardware for the solar panels, davit arms for the dinghy, and a lifting arm and mount for the outboard motor, that added another $1,000 to the price. So, for $3,000, we have a 'custom arch' shipped to California.
We had already arranged to ship some other heavy/bulky stuff to Fiji via a shipping consolidator in California, so adding on our Arch in a Box was not too difficult or expensive. (We and s/v Challenger are shipping a dinghy, outboard motor, 8 gallons of bottom paint, our arch, and 4-5 boxes of miscellaneous stuff, and sharing costs and logistics).
Sunday of the boat show was really rainy and cold. While sitting in Carisma's cockpit waiting for the rain to stop, so we could go ashore, we saw some 'small boat' sailors heading out for a race in Chesapeake Bay. Normally I would say "Ohh, I wish I could be sailing with them." But not that day...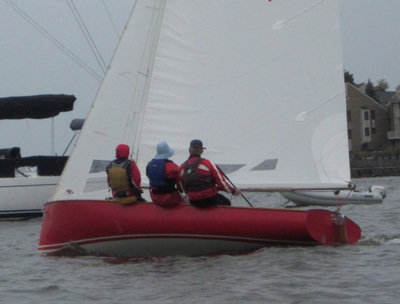 This Doesn't Look Like My Idea of Fun!! (Brrr)