The weather has been so beautiful that, on Sunday, we decided to take a little time off to play.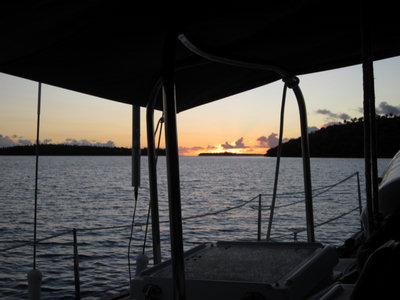 Watching the Sun Rise on Another Sunny Day


My argument at the time to Dave was "We can still do our work out in the outer anchorages." But truth be told, we've not gotten much work done these last 2 days.
On Sunday, we had a nice Sunday breakfast, and then hauled anchor and joined our friends Roger and Amy on Shango, out at Vaka Eitu (Anchorage 16). They, sustaining no damage in Cyril, have been out exploring around these last few days. We arrived at the anchorage about 1:15pm, and by 1:30, we were in the dinghies heading for the "Coral Garden" reef (north of the anchorage).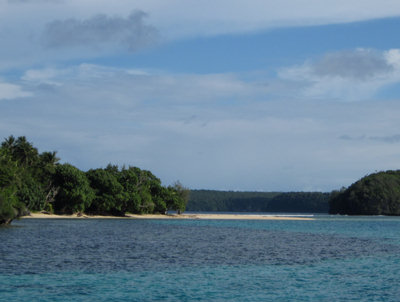 Nice Beach, with Reef Beyond, at Vaka Eitu


The last time we snorkeled this reef, it was just after high tide, and fairly calm, and we (carefully) drove the dinghies out through the swell/small breakers to the deep side of the reef. We hadn't taken much time to snorkel then--we were afraid the falling tide would trap us outside the reef. This time, we left the dinghies on the beach and "Shamu-ed" out over the reef. It was pretty calm, but fairly low tide. It would be helpful doing this to have booties, gloves, and at least a rash guard or light wetsuit. I had none of those things, and still fared OK. We had to start swimming in shallow water, time our passage over the shallowest parts (so we didn't get crashed on by a wave), and suck up our bellies so they didn't drag as we snorkeled out. Half of the time, you were fighting the pull of the wave action. I found it was easiest to grab the (old, dead) coral on the bottom to pull myself along (hence gloves would be handy, because there's no time for careful hand placement).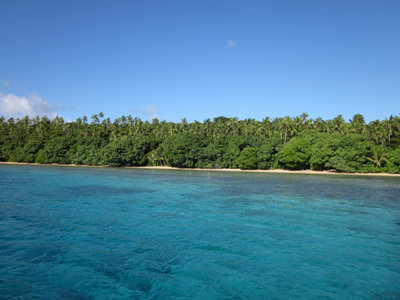 We Have the Big Bay All to Ourselves


Once outside, we found the beautiful coral just as beautiful as we had before. This is absolutely the best array of live hard and soft coral we have seen in the entire South Pacific so far. We also saw some fantastic carpet anemones--one was about a meter square, mixed among the coral, and full of anemone fish. The water wasn't as clear as our last snorkel, but still very nice, and cleared up (and became cooler) as the tide finally turned and started coming in from the deeper water. We spent about an hour playing out on the reef and over the drop-off. We surveyed the area for a potential SCUBA dive some time in the future (we're still waiting for Shango's gear to arrive). We'll for sure be back to dive the deeper part of the reef, soon.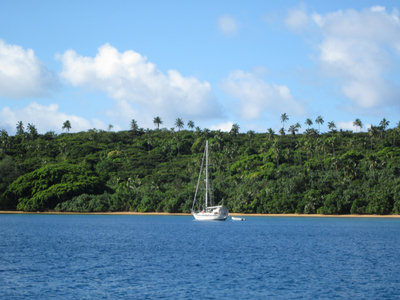 S/V Shango, Sharing the Anchorage with Us


We had a beautiful sunset--cocktails aboard Shango--and a quiet night.

At 02/19/2012 7:35 PM (utc) our position was 18°43.22'S 174°06.10'W
http://svsoggypaws.com/currentposition.htm