After a quick jaunt in to see the marae, we picked up anchor from our 'pinnacle' and motored SE around Raiatea. It was a beautiful sunny day with light wind. We hooked up the watermaker and made water all the way to our next stop--Motu Nao Nao on the southern tip of Raiatea.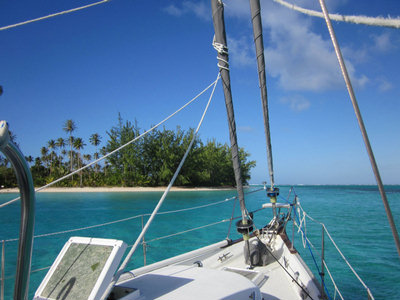 The West End of Motu Nao Nao
We had heard from others that this was a nice spot, and we were glad to find it was even better than expected. You would think that by now, anchorage off a nice beach would be pretty ho-hum. But really, it is not. Though French Polynesia is beautiful, it really is lacking in nice sand beaches. Many that look sandy in the pictures really are crushed coral and not so nice to walk on.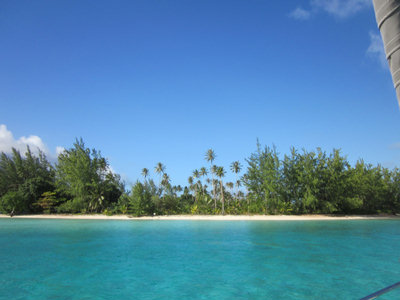 The West End of Motu Nao Nao
But, my was it shallow in the anchor spot we had from our friends on s/v Nakia! But Nakia has a slightly deeper draft than we do, so we knew that if they got in there, we could too. We had to stall a bit out in deep water until we got full sun to see our way in. We could tell visually that the water went from 'very deep' (over 100 feet) to 'very shallow sand' (under 10 feet) in the space of a boat length.
As an aside, our depth sounder has been acting wonky lately--we're still trying to figure out what happened to it. It reads OK in depths from 10 feet to 90 feet, but gets messed up in shallower or deeper water. We can live without the deeper water readings, but not having an accurate sounding in shallow water is nerve-wracking.
So we edged slowly up to the sand bank, with Dave on the bow with his polarized sunglasses on, and me in cockpit reading off depths. Once we got on the bank, the depth sounder was flashing again (grrr!). But occasionally it would stop flashing and display around 8 feet. So we were on, not aground, and it looked like the sand was about the same depth around us. So we threw the anchor out in the lee of the little motu, just off the nice sandy beach, and I jumped in to sound the water around us. Feet on the bottom, hand in the air--if my hand is under water, it is over 7' deep. Fins outstretched adds another 18 inches. So we were in 8-10' of water--plenty of depth for Soggy Paws' 5.5 foot draft.
Ahhh!! Beautiful! Unfortunately, this spot is on the charter boat circuit, so later in the day, two other boats came in and dropped anchor near us. But we knew they would only stay overnight. Though we only planned to stay a day there, we ended up staying two. That meant we would have skip a spot on the west coast of Raiatea for the next anchorage (to stay on the rough schedule we had worked out). But it was worth it just to rest for a day and catch up on laundry and small chores.
The wind was still blowing in the 20 knot range, and forecast to continue to do so for a couple more days. But west of Motu Nao Nao, all was tranquil. We were out of the wind, out of the chop, and anchored in deep sand. We felt fortunate that we were in such a comfortable spot, when we heard our friends on the radio talking about the conditions in their anchorages.
The snorkeling on the coral heads out behind the boat, and ahead to the right, was pretty darned good for this part of French Polynesia--the best we have seen since we left the Tuamotus.
-----
At 7/20/2011 6:29 AM (utc) our position was 16°55.15'S 151°25.91'W
http://svsoggypaws.com/currentposition.htm