We did finally do the Faaroa River trip. Some friends who had met James, the guy who gives the free 'Botanical Gardens Tour' by kayak, the day before, had told him we were coming.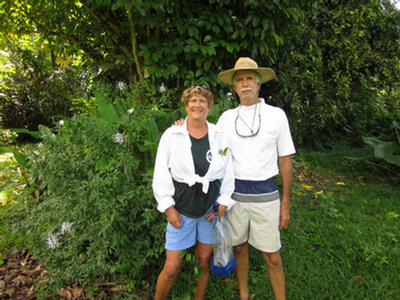 At the Botanical Gardens
So he paddled out to our boat to let us know he was there. We told him we were coming in soon. He said he'd go back inside (it was still blowing 20-25 kts out in the bay), but he made sure that we knew the way in over the river bar... between the two sticks and then to the left of all the dead tree trunks.
Following James in the River
On the way in, we kicked our motor up partway, and I sat on the bow of the dinghy dipping with the oar. It got down to about 2 feet at one point, but deepened quickly again after we were over the bar. Once in the river, the water clarity was good enough that we could see the shallow spots.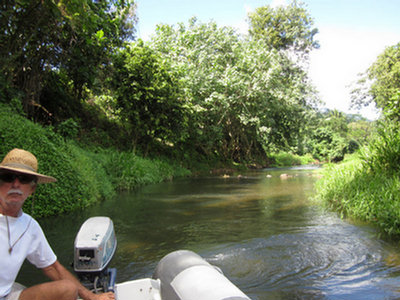 Another Dinghy Adventure
James met us just inside the river and motioned for us to follow him. We never did quite figure out James' role in the river and the 'Botanical Gardens'. His command of English is limited, so we had a hard time asking him questions other than about the plants. And sometimes the answers to THOSE questions were only partially understandable. But nonetheless, he made sure we stayed in the deep part of the river, and took us all the way to the end. Then we backtracked a little to a small side canal, where we parked the dinghy and went walking through the 'gardens' with him.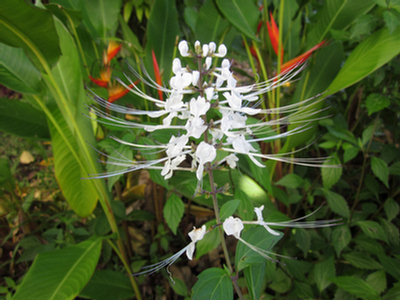 Cat's Whiskers
It was a fantastic array of native tropical plants, from vanilla beans to star fruit, and including things like baslil, tiny Polynesia chili peppers, citrus trees, taro, coconuts, and many flowering plants. For each plant, he stopped and gave us the Polynesian name as well as the common English name, and then explained what its uses were in the islands.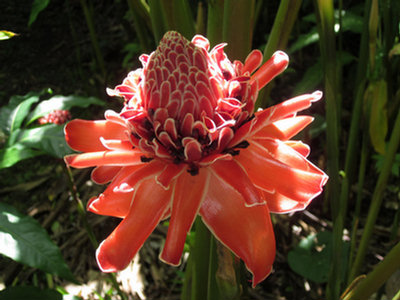 Ginger?
Many of the flowers and variegated plants were in the garden because they looked good on Polynesian dancers, or smelled good, or made baskets, or...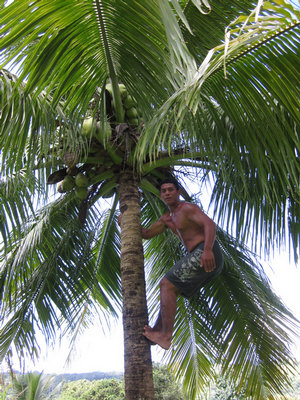 James Gets Us a Coconut
At the end, James cut us down a stalk of bananas and climbed a coconut tree Polynesian style and threw us down a couple of coconuts. If we had wanted (according to other cruisers) we could have purchased from one of the local farms, fruits and veggies as a very reasonable price. But we had just stocked up, and were only lacking bananas.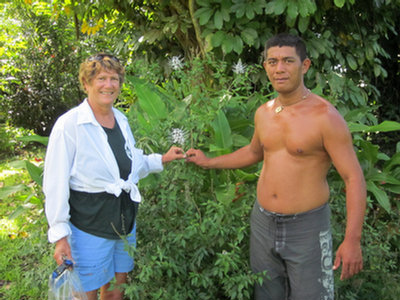 Sherry & James
We gave James a 'gratuity' of 1000 CFP (about $10) for his time and the bananas, and felt it was well worth the time and money.
At 7/18/2011 3:10 AM (utc) our position was 16°49.07'S 151°24.87'W
http://svsoggypaws.com/currentposition.htm