We are on the 10 day plan for Raiatea/Tahaa. Dave has read all the guidebooks and wants to do 'everything'. The first stop was the bay of Faaroa, a long narrow bay directly shoreward from the Passe Iriru Ou Maire. The attraction here is a trip up the only dinghy-able river in French Polynesia. Previous cruisers have written about making this dinghy trip and receiving a 'botanical gardens tour' and copious fruits and vegetables, while up the river.
I wasn't so sure this was a good idea. With a NE wind blowing 20 knots into a NE facing bay, opposite a break in the reef... and the bay goes from 100' deep to 60' deep to 25' to 5' in the space of 100 yards. Didn't sound that good to me, but Dave really wanted to do this river trip, so in we went.
It took us twice to get properly anchored. The first time we congratulated ourselves on finding a 25' spot to drop the anchor. But once things settled out, with the proper amount of scope out, we were just touching the 5' (or less) spot. I could feel our rudder bump on something occasionally.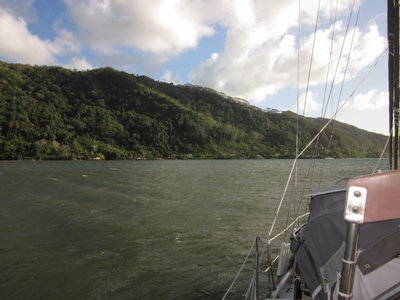 Our Windy Lee-Shore Anchorage


So we pulled it all in, and re-anchored further out. But with such a steep slope, and the need for appropriate scope, we ended up having to drop the hook in 60' of water... and still were only a couple of boatlengths away from the 5' shelf. But we backed down hard, and knew we were hooked up well. We set our anchor alarm (an old Garmin GPS mounted in our bunk where we can hear it), and went to sleep.
The wind increased during the night from 20 kts to 25 with gusts. We kept a close eye on the GPS but felt we were securely anchored, and were mostly sleeping. Then at 4am, I heard this 'whump' sound. Hmmm, wonder what the heck that was? I looked out our porthole on the side of the bunk and there was our dinghy floating past, shining bright in the moonlight. "Dave, there goes our dinghy!" And he says "Oh shoot, I untied it yesterday afternoon, thinking we were going to launch it right away." The 40 knot gust had somehow gotten under our dinghy, which was stowed for sea upside down on the foredeck, and flew it completely free of our boat, almost without touching anything else onboard, and landed it upright in the water with a "Whump". Wow! The power of the wind!
We scrambled out of bed and went up in the cockpit to watch our dinghy sailing away downwind in the moonlight. We didn't even need a spotlight to watch it go! The wind was blowing really hard, so thoughts of jumping in after it only lasted a microsecond before sanity took over. Fortunately, fortunately, we are in this nice cul de sac, and we were fairly certain that the dinghy wasn't going very far. What more could we do but go back to bed and wrestle with dinghy rescue plans in our sleep? (And, of course, Dave spent the rest of the night kicking himself for not at least clipping the bowline to the lifeline). (We both were thanking our lucky stars that we didn't have 2,000 miles of open ocean behind us that night).
The big problem was, for recovering it, that the wind forecast was not good--we expected 20-25 knots for the next 3 days. We have kayaks aboard, but they are really lightweight inflatables--not suitable for going anywhere in 20 knots. They are barely usable in 5 knots. And, in only the second anchorage since we left Hawaii in April, there were no other cruisers in the anchorage with us.
As soon as it got light enough, I went out with the binoculars to scan the shoreline. I expected to be able to see it easily behind us, but no sign of the dinghy!! Our white RIB should show up against the trees like a neon sign. I finally roused Dave. He didn't see it either. So we discussed search and rescue options. We finally settled on digging the inflatable kayaks out of deep storage under the V-Berth, and sending Dave out in one kayak and a handheld, to look for the dinghy. Since we were in a cul de sac, the worst thing that could happen was that he'd get blown ashore and have to swim back out.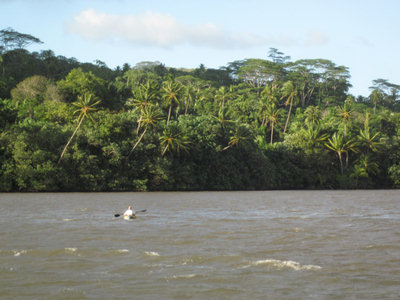 Dave Sets Out in the Kayak


I was to stay aboard and try to contact friends on the HF radio, in case we needed help, but also stand by with the VHF and the second kayak in case Dave needed help.
Before he launched out in the kayak, Dave took one last look with the binocs, and thought he saw the dinghy under the trees behind us, at the water's edge. We felt that even though he couldn't tow the dinghy back with the kayak, he should be able to walk along the shore with it, to some houses off our beam, and either row back from there, or get help from people on shore.
So Dave set out in our very light blow-up kayak in 20-25 knots of wind. (Unfortunately, I forgot to take a picture until he was too far away). Meanwhile, it was time for the SSB net, and I got on and made contact with our friends on Endorfin, only 5 miles south of us. We confirmed that we were close enough for VHF contact, and they volunteered to come help, if we needed it. But I told them to hang out for awhile--I thought we could handle the rescue ourselves.
And sure enough, within a few minutes, Dave had extricated the dinghy from the swampy area under the trees, loaded the kayak in the dinghy, and was wading alongshore towing the dinghy. He got to a point 200 yards abeam of Soggy Paws, at someone's house with a small dock. While he was tying it off, a woman came out, and I could see him trying to explain, in Polynesian, how the dinghy flew off in the night, and that the wind was blowing too hard to row the dinghy back to the boat. A few minutes later, she came back with her brother who at first offered to help Dave paddle out. Then as they stood there and watched the wind blow, the final solution was to get a motor boat and tow Dave, the dinghy, and the kayak out to Soggy Paws.
This they did, and by 8:45 am, Dave was back safe and sound with the dinghy. YES! The only thing we lost permanently was our dinghy bimini, which had been resting on top of the dinghy. A pretty cheap price to pay for another new lesson. (Tie the dinghy down, mate!).
The ironic thing was that we'd had dinner a few nights ago with our friends on Dreamaway, who were celebrating recovering their old tiny Avon, which had blown off THEIR deck in the Marquesas. It had finally turned up at a Gendarmerie a few weeks later (after they'd left the Marquesas for the Tuamotus), and friends had loaded it up, and it had only just arrived in Papeete a few days before. We wondered how anyone could be so stupid as to let their dinghy blow off their deck...
At 7/18/2011 4:18 AM (utc) our position was 16°49.07'S 151°24.87'W
http://svsoggypaws.com/currentposition.htm