I am sitting out in the cockpit watching it rain. Fortunately, with our awning and our fully enclosed cockpit (with our side curtains down), it's pretty dry.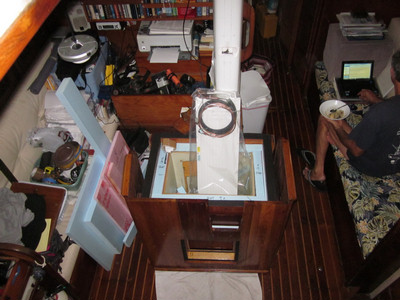 Our Main Cabin, This Morning
There is no room for me to work down below--Dave still has the center of the cabin torn up, where he is installing the new freezer. He's almost through with step 2 of the whole Frigoboat installation... upgrading the insulation on the freezer. We've now got 3" of 'blue board' all around. He's now to the point of bending the 40-inch evaporator plate to fit into our 24-inch wide freezer. (Frigoboat dealer and SSCA member, Scott from s/v Chardonnay says the perfect bending radius is around a bottle of Chardonnay!)
Hopefully we'll be able to flip the switch on the freezer in another day or two.
Meanwhile I've been sewing up in the laundry room (nice table, electricity, well-lit, and air-conditioned) with a borrowed sewing machine. I'm sewing new slipcovers for the dinette seats, to add a little color to our basic boat interior. (see one finished on the right side of the picture).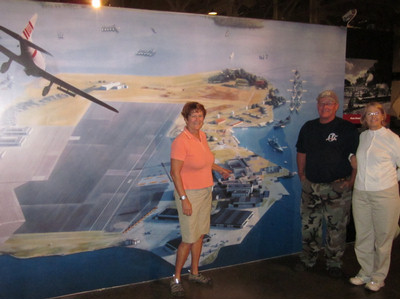 Sherry, Claudia, and John Sterling at the Pacific Aviation Museum
We have also been doing LOTS of other things...
- Working out in the gym and the swimming pool
- Monday night 'burn-it's at Hawaii Yacht Club
- Guided tour of the
Pacific Aviation Museum
by one of the Museum's founders, John Sterling
- 'First Sunday' Marine Flea Market down at the Ala Wai boat basin
- Sunday Brunch with Claudia & Robs--old cruising friends from s/v Sea Host
- Helping Mon from s/v Windy City study for her citizenship test (she passed!)
- C Dock Mexican Potluck
- Hiking the Aiea Loop Trail
- Ordering a new
Vesper Marine AIS 850 Watchmate Transponder
- Helping a US Navy-contracted video production company come up with some pictures and information on Dave's Dad. The Navy is getting ready to celebrate the 100th anniversary of Naval Aviation, and Dave's Dad (also named David McCampbell) is the Navy's highest scoring Ace, and a Medal of Honor winner.
Check it out here
- Managing our
rental condo on Melbourne Harbor
- Sold our car and 2 bicycles (for delivery when we leave)
Some of the more interesting of these I do intend to blog with some pictures--there's just not enough time in the day!!
And, of course, we are getting down to the 'last 4 weeks'... so we are going over lists and trying to get small stuff done in between the big projects. (Provisioning, medications, LED lights, etc).