(Too bad we're still motoring!)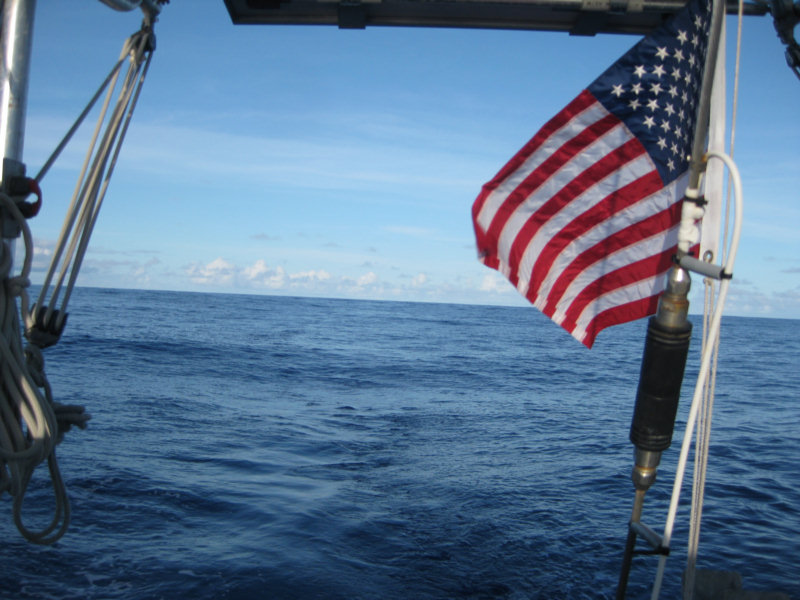 Flat Calm
Our friends on Infini have declared that they are not motoring in. They are still sailing. I envy them the tranquil sailing, but only time will tell who gets to actually SEE Pitcairn. Mike has been talking about Pitcairn ever since we started out on this trip. He just refuses to motor. We expect them to arrive just about the same time a 14-16 foot swell arrives. They are talking about heaving-to for a few days to wait out the bad swells at Pitcairn. Good for them.
For me, I'm ready for THIS adventure to be over. We're counting the days til we're in the Gambiers, in a nice reef-enclosed anchorage. And it looks like we're arriving at Pitcairn in a nice lull, so we'll actually be able to go ashore.
Today was a picture perfect day, but the wind is still decreasing. And to make matters worse, it has gone to the NW, so it is now too close to the nose to be sailing. We finally pulled in the genoa an hour ago. We're hardly getting anything but stability out of the mainsail.
Dave just went to take a picture of the calmness. It isn't yet 'flat dead calm'. There are ripples on the water, and still the big swell. But it is long period and isn't bothering us at all. I'm having fun cooking a real dinner tonight! (Shrimp Stir Fry... yum!)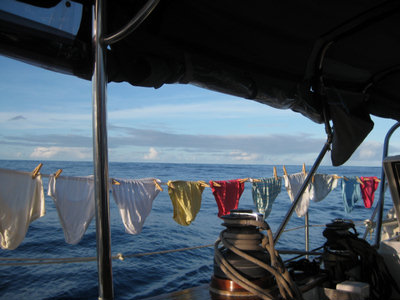 Laundry Day at Sea


We're in the process of making 80 gallons of water. I did a little laundry--about 10 days worth of underwear--in the sink. We have enough T-shirts to last a lifetime, so underwear is the only thing we get a little stressed about. The last time we did laundry was about Feb 28! We wanted to get our laundry done at Easter Island, but never got the chance before weather chased us out.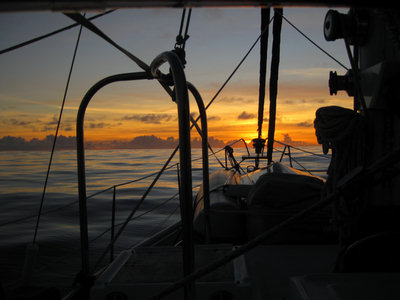 Still Flat Calm at Sunset


At 4/2/2010 1:32 AM (utc) our position was 25°05.39'S 128°23.26'W