We were 15 miles away when dawn's early light revealed the fabled island of Pitcairn ahead of us.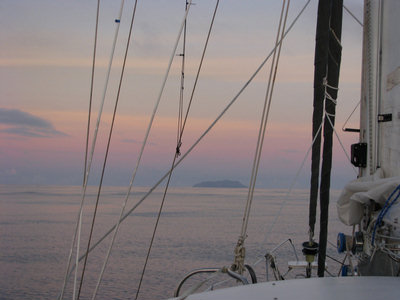 Land Ho!
We've been motoring all night in calm conditions. It is hard to believe that this is the same ocean that just 2 days ago was kicking the stuffing out of us. The surface of the ocean is glassy (though we can still see the big swell that never goes away).
Just after sunset, the stars were out last night by the billions, and then the full moon lit the way westward for us most of the night.
We've been communicating with a Ham Radio operator on the island named David, VP6DB, through the Pacific Seafarer's Net, and he was the first one to answer our VHF call this morning. We plan to be at anchor in Bounty Bay in 2 hours!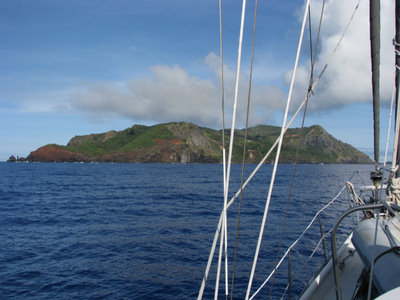 Almost There


Infini finally started their motor when the wind dropped to zip. They are about 100 miles behind us, and expect to be in to Bounty Bay tomorrow morning.
To read some other info about Pitcairn...
Here is s/v Nine of Cups account of their visit last year:
http://www.nineofcups.com/pitcairn.htm.
And the Pitcairner's own tourism website:
http://www.visitpitcairn.pn
-----
At 4/2/2010 3:45 PM (utc) our position was 25°03.78'S 129°54.02'W