We are in Rikitea Harbor, on Mangareva Island, in the Gambiers group of islands, in French Polynesia. We are glad to be back in the tropics. (This image is from a postcard)
We have a little bit of internet, but it is VERY VERY slow. We are asking all our friends to please please please DO NOT send us any attachments, or those cutsie email forwards.
We love hearing the news from back home and very much welcome emails, but we just can't take any big emails. Someone today sent me a 9MB email that would have taken us an hour to download (and we are paying by the minute for all our internet these days).
We got checked in with the Gendarmerie. It took us 15 minutes and a 70-cent stamp (to mail our paperwork to Papeete).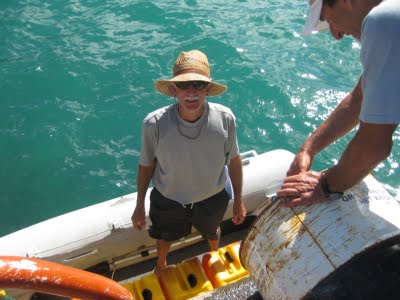 A supply ship came in yesterday, so we spent most of yesterday and part of today getting everyone topped off with diesel. We bought 6 55-gallon drums of fuel for 3 boats, and then pooled all our jugs and dinghies to ferry the jugs back and forth. What a process! And it 'only' cost $5.50/gallon. Our share was almost $500!! We are very thankful in these capers, for our ECSA siphon hose!!! Hopefully it is the last diesel we'll have to buy before we leave the Marquesas for Hawaii in September.
The wind is supposed to drop off starting this afternoon, so we are planning to go out somewhere to the edge of the reef behind a 'motu' (small island on the edge of the reef) and hang out and go snorkeling, etc, for a few days.