We left Pitcairn at sunset yesterday, in just a breath of wind. Most of the night we were doing 1.5-3 knots.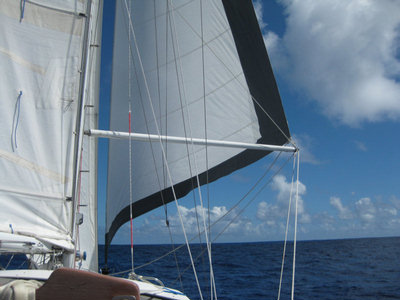 Our Dead Downwind Configuration
But this morning, as forecast, the wind came up to about 10 knots. We've been having a nice sail all day with a wing-on-wing configuration. We have the genoa poled out to windward, the main vanged to leeward, and the staysail sheeted tight in the middle. This is a great downwind configuration--very balanced, so it is easy on the autopilot or windvane. And the staysail provides a little roll control.
The wind has built slowly during the day, so now we have more like 12 knots. We are making about 5.5 knots directly for Mangareva.

We have about 195 miles to go. ETA at the SE pass at Mangareva is early Tuesday morning. We are REALLY REALLY looking forward to a nice calm anchorage. We have been underway or in dicey anchorages since March 2.
-----
At 4/5/2010 2:43 AM (utc) our position was 24°18.03'S 131°35.31'W