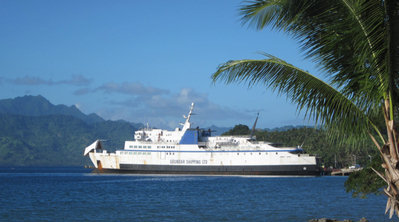 The Lomaiviti Princess--The Savu Savu to Suva Ferry
After an exhausting couple of days closing the boat up...
- Scrubbing the entire interior and wiping down with vinegar
- Catching up on laundry
- Defrosting and cleaning the refrig and freezer
- Taking down the genoa and staysail, folding on deck, and stowing below
- Wrapping the mainsail with line on the boom
- Taking in all movable deck hardware (and labeling so we know where it goes when we put it back)
- Stowing all the miscellaneous deck stuff below (in case of cyclone while we're gone)
- Replacing all halyards with cheap sacrificial line
- Loading the dinghy on deck
- Flushing the outboard motor
- Pickling the watermaker
- Taking down the 4 arch-mounted solar panels
- Putting back up the 2 small solar panels (not enough amps from just the wing panels)
- Equalizing the batteries in the House Bank
- Removing batteries from all battery-powered devices aboard
- Bagging the prop (we should have scrubbed the bottom, too, but ran out of time)
- Running backups on all 3 computers onto 2 different hard drives
- Planning our trip and making reservations and arrangements
- Ordering a few critical items needed on our arrival in Atlanta
- Packing, packing, and re packing (as always, up against weight and size limits)
- Clothes and toiletries
- Computers, cell phones, Kindles and iPads, and other misc electronics
- Shells and handicrafts to get off the boat
- Guidebooks and books from places behind us
We hitched a ride ashore at 6pm for a shower and dinner. And then boarded the Lomaiviti Princess, a ferry bound for Suva, at 8pm-ish. We were all set to get there right at 8pm, and fretting about having time for dinner, when Simon, the Fijian guy who gave us a lift ashore, said "Don't worry about it... the boat isn't here yet, and it might be here at 8, or it might be here at 9... it's on Fiji time." We finally saw the lights of the ferry coming in at about 8:15, and boarded around 8:45.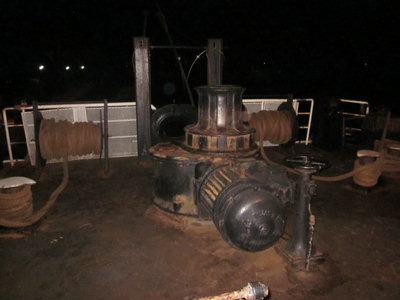 Casting off at Night
We had booked a cabin, rather than the airline-style seating in the First Class lounge. A friend had done the lounge thing and said it was nice and quiet and she just slept on the floor. But for the two of us, this would have cost about $140FJ, and for $210FJ ($122US) we had a private interior cabin with 2 comfortable bunk beds and a bathroom.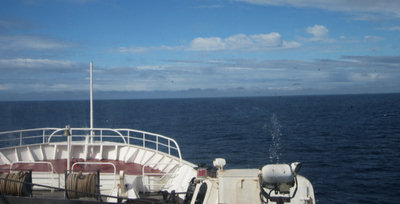 Nice Calm Morning at Sea
The weather is very calm right now, so we had a very nice passage and a good night's sleep. ETA at Suva is 11am.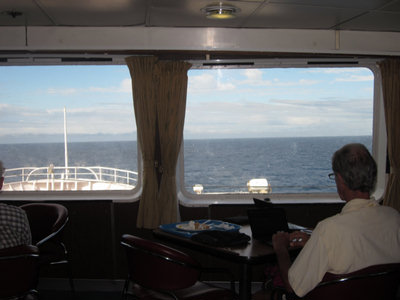 Dave Answering Email at Breakfast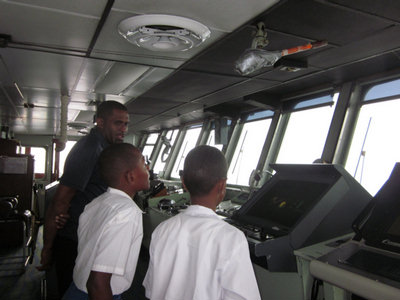 School Kids Touring the Bridge of the Princess
We have booked a room at the South Seas Private Hotel in Suva (a backpacker place) for one night, and we fly out of Nadi tomorrow night. We hope to get a chance to see the marinas at Vuda Point and Port Denarau tomorrow before we fly out.
When we land in Atlanta at midnight on the 27th, we'll have been in transit for 3 days. We have set aside the weekend to recover and visit with family (and get the car, stored there, running). Then on Monday morning, we set out on a 4,000 mile month-long trip through the eastern U.S., all the way to Maine, and back down to Pensacola, FL and then to Melbourne, with stops in Charlotte NC, Waynesville NC, Washington DC, Annapolis MD, Deep River CT, Rockland ME, Boston MA, Syracuse NY, Dayton OH, Cincinnati OH, Birmingham AL, Panama City FL, and Largo FL. And those are just the stops we've already planned!!! I'm sure we'll drive by a lot of people we'd like to stop and see, but our schedule is already jam packed...
We hope to be in Melbourne in our condo on Melbourne Harbor on Nov 2, in time for TGIF at Melbourne Yacht Club. We are looking forward to visits with our Florida friends in November and early December.