June 21 - July 4
We spent nearly two weeks in Savusavu, enjoying this small Fijian town. We loved the social life, the restaurants, the quiet anchorage, hot showers, a good veggie market, and of course, the very friendly Fijian people.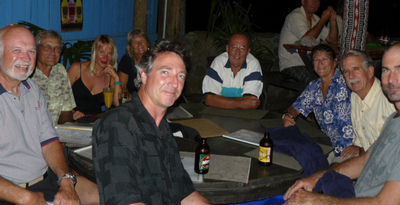 Our Welcome Dinner at Joseph's Decked Out Cafe
Around the table: Bill-Solstice, Kennedy-Far Star, Jerry/Yanna-Challenger, Linda/Gary-Sea Flyer, Me/Dave-Soggy Paws, Shawn-The Dealer
To put it in perspective for my Florida and Caribbean friends, Savusavu is somewhat like Marsh Harbor in the Bahamas--you spend weeks outside cruising the 'out islands', and then drop in to socialize, restock, get internet, eat out, etc. It is also a place that cruisers visit again and again. So, while there are always many first-time-to-Fiji cruisers there, there are also many 'old hands' here, willing to share their advice and cruising experience with the newbies.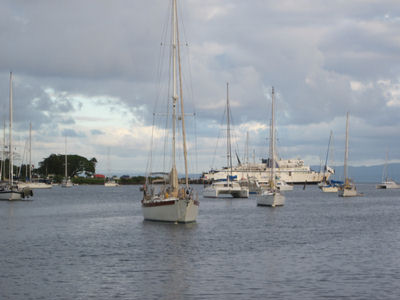 Looking Out the 'Creek' at Savusavu, Suva Ferry in the Background
There are 2 marinas in Savusavu, the Copra Shed Marina and Waitui Marina. We got reservations for a mooring at Copra Shed (on the good advice of a friend). Waitui's moorings are very good, and the cruisers running it are very helpful and friendly, but their 'complex' needs a little renovation (we hear that the Fijian owner does not want to invest any money to spruce up the building).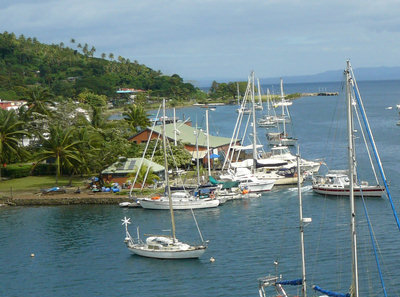 Copra Shed Marina Complex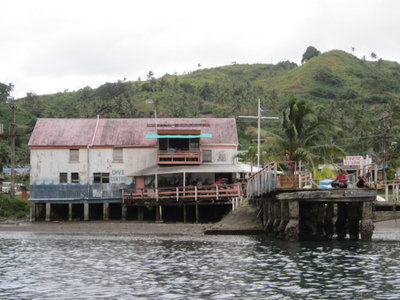 The Other Marina in Savusavu
Savusavu is only a little bigger in local population than Marsh Harbor, but it is more connected to civilization. It is linked by road to Labasa, the 2nd or 3rd largest city in Fiji. And it is linked by overnight ferry to the main island of Viti Levu, where the capital, international airport, and primary industrial area is.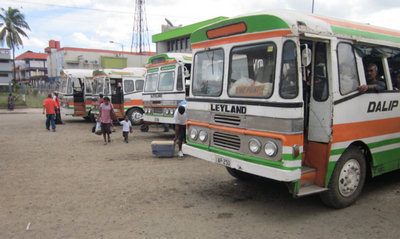 Local Buses Lined up In Labasa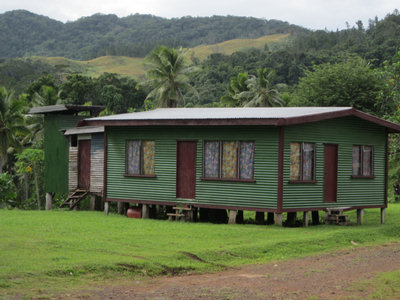 A Typical House in Central Vanua Levu Fiji
We took the bus to Labasa one day. A friend wanted to visit the dentist there, so a few of us accompanied her, just to see the sights. It was a 3-hour bus ride over the small mountains, costing only about $4 USD each way. It was a nice cheap way to see some of the local countryside, but Labasa only has slightly bigger stores (with slightly cheaper goods) than Savusavu, so I wouldn't make this 6 hour round trip just for grocery shopping.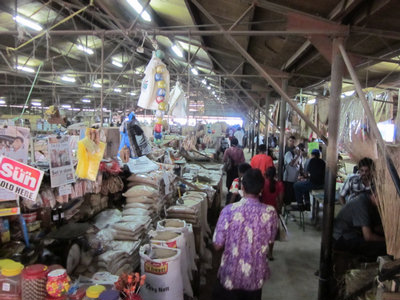 Labasa Market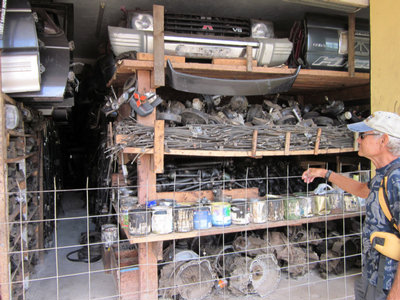 Jerry and Dave Check Out a Hardware Store in Labasa
On the bus back, our bus was jammed with kids coming home from school. They were all in uniform (white shirts and blue shorts/skirts) and fairly well-behaved.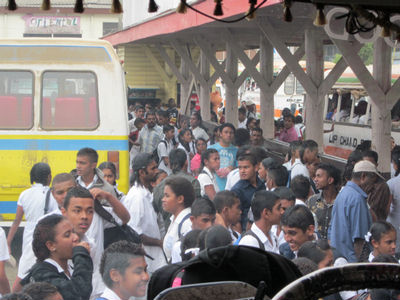 School Kids at the Labasa Bus Station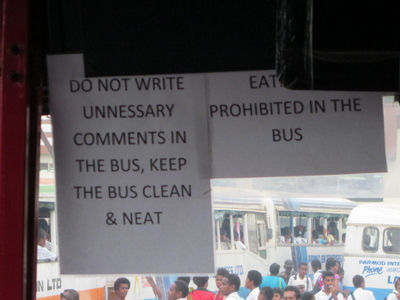 Another day, Linda from Sea Flyer, Yanna from Challenger, and I went out to the nearby Cousteau Resort for snorkeling.
This photo of
Jean-Michel Cousteau Fiji Islands Resort
is courtesy of TripAdvisor
This is a fairly exclusive $300/night place, and I was sure they would turn us away. But we arrived in a taxi, looking fairly upscale, and Yanna talked our way in the door. We spent the afternoon trying to blend in. Most of the guests were away on a day hike, so there was hardly anyone to see us low-life cruisers hanging out there. We snorkeled off the beach, but the water was not real clear, the coral mostly dead, and we got cold rather quickly. After snorkeling, we showered off at the beach shower, made ourselves decent, and had a round of poolside drinks (at double town prices, of course). We stayed long enough to see the sunset and the daily torch lighting, and then left. We've heard that dinner for 2 there can easily run over $100 (in a place where dinner is usually $10-15).
The last few days were consumed with 'getting ready'. I provisioned for 2 months in the outer islands--schlepping groceries, veggies, beer, and wine in multiple trips to the stores. We topped off our money supply, and our cell phone and internet 'pre-pay' dollars. I paid all the bills ahead that I could.
Meanwhile, Dave was caught up in his usual round of helping other cruisers out with their boat problems--one boat had refrigeration issues, another had a transmission issue, and another rigging issues. This is all 'pay it forward' kind of stuff. Dave likes looking at other people's problems--it means he has experience fixing that thing before it breaks on our boat. He is now nearly an expert on Frigoboat refer repair, and ours still are running well.
Just yesterday, we were hiking up to a waterfall, and the phone rang, and it was another cruiser with a Perkins engine with some questions. They had Googled 'Perkins 4-154' and our website came up. We keep our local cell phone number posted on the website Contact page, so friends can call us if they want to.
Anyway, back to Savusavu and getting ready to leave. Our last day there was 4th of July, and Kennedy on Far Star and Peggy on Ogopogo organized an impromptu 4th of July potluck/BBQ at the Copra Shed Marina. It was a fun way to end our time in Savusavu... for now.
On our way to our current location...offshore...using our Vodafone internet 'dongle', I booked our tickets back to the US for our annual trip. Sep 27 to Dec 15. So we will have to be back in Savusavu by about Sep 15 to put the boat on the mooring and get ready to leave.
More on Dakanuba, where we are now, in the next post.
At 07/06/2012 5:37 PM (utc) our position was 16°46.47'S 179°50.22'E