June 28, 2012
One of the few remaining issues after our Cyclone Cyril encounter in February is our 2 damaged solar panels. One had been on the port quarter and got T-boned by Sea Flyer's bow (when we dragged into them, mind you). The other was on the arch, and must have gotten hit by Sea Flyer's forestay--he had a dent in his furler extrusion right about solar panel height.
(Our Cyclone Cyril Posts)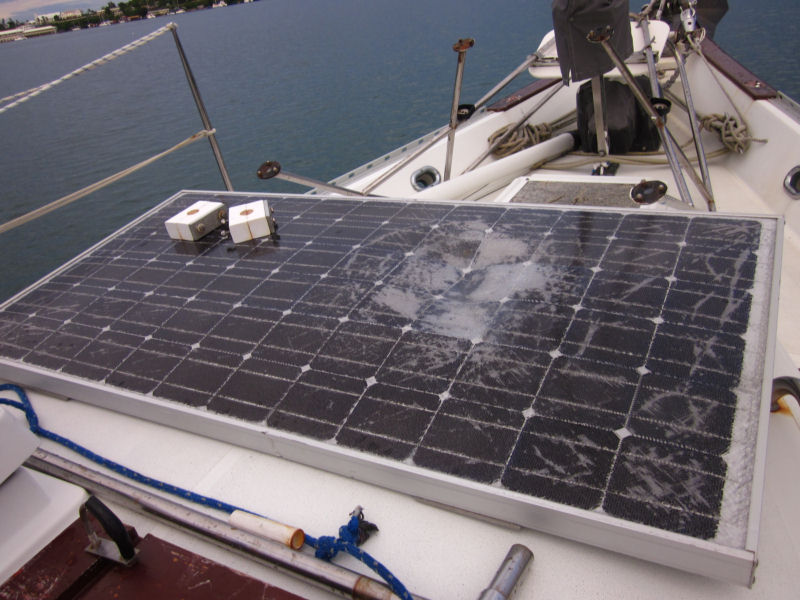 Crunched 12-Volt Panel
While we were sitting in Neiafu waiting for the fiberglass repair materials, Dave took the 2 damaged panels off and tested them. The 12-v nominal solar panel was still putting out about 60% of its rated amperage and the 24-v nominal solar panel, those visually much less damaged, was only putting out about 30% of it's rated amperage. Dave was hopeful of magically repairing the big (nearly new) 24-v panel, but after a lot of questioning, it seemed difficult to diagnose exactly which cell(s) were dragging down the output. And even after diagnosing, the repair would be (probably) beyond his skills.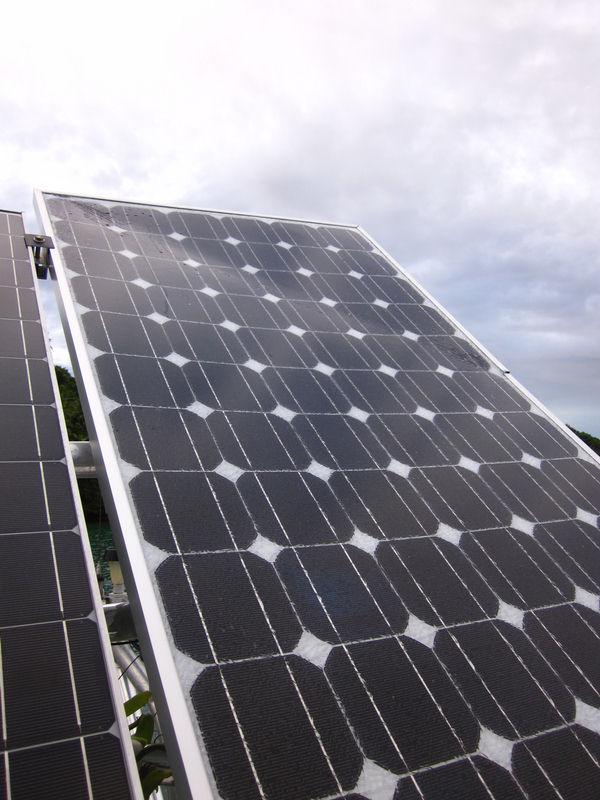 Bent 24-v Panel
(You can't see it in this picture, but the glass surface
of the panel is quite crazed).
Once we got to Savusavu, Dave asked the 'old hands' where in Fiji he could obtain a new solar panel. The two answers came back several times 'Labasa' and 'Clay Engineering in Suva'. Since Labasa is close, that was our first choice. That was one reason we took the bus trip to Labasa. We did find a shop on the main street in Labasa that sold solar equipment, but they didn't have any individual solar panels for sale in their shop. And our requirements were pretty specific. If we could get it, we wanted EXACTLY the same panel that was damaged--a 175W Solar World (ex Siemens) 24-v nominal panel. Anything else would require a lot of extra work to meld a new panel into our existing array.
So next, he called
Clay Engineering
in Suva. Not very hopeful, mind you, but worth a phone call. Lo and behold, Clay Engineering had a shipment of Solar World panels coming in in a couple of days, AND there were 175-watt panels of exactly the same specs and dimensions as our damaged panel. WOW!! After a few email exchanges with the sales person there, we got a firm quote and instructions for payment--deposit cash directly in their bank account at the ANZ Bank in Savusavu, and they would ship the panel via the twice-a-week ferry from Suva to Savusavu. We were amazed that the price, shipped to Savusavu, was LESS than our 'heavily discounted' price we got in Hawaii a little over a year ago.
Within a week, we had the brand new panel in hand, and mounted on our arch. Yahoo! We still have one damaged panel, but replacing the big panel has been enough for now, we think. We are now almost back to full strength. When the sun shines we are completely self-sufficient, and even on cloudy days, we make enough solar energy that we only have to run a fossil-fuel powered energy source every few days.