June 28, 2012
We are happy to report that our 5HP motor that was torn in half and sunk in
Cyclone Cyril
is now fully operational.
Our new gaskets, ordered in the U.S. from
Internet Outboards
, shipped to North Carolina, flown by a friend of a friend to NZ, carried from NZ to Minerva Reef by s/v Challenger, and then on to Savusavu by s/v Far Star, were waiting for us in Savusavu when we arrived. (Note: these parts are available in NZ, but at 25% higher prices. Since we weren't in a hurry for them, we opted for the carrier pigeon route).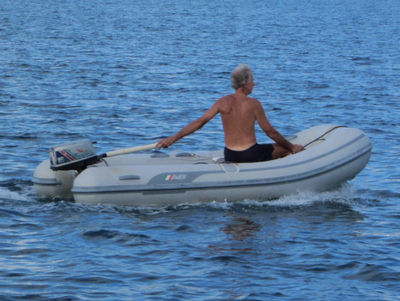 It Lives!!
It took Dave only about a half an hour to disassemble the outboard one more time and install the new gaskets. He was soon buzzing around the harbor, and it's been running fine ever since. It's a little louder than before--but Dave thinks that's just a gasket in the foot somewhere, and he can probably fix that eventually.
We are happy to have our lightweight, fuel efficient, and durable 19-year-old Nissan outboard running again. (But glad our bigger 15HP Tohatsu is also hanging on the stern as a spare, and for longer dinghy runs).