Almost the day we FINALLY received our shipment of fiberglass repair materials that we first started trying to order in NZ on 10 Feb, the 3 weeks of beautiful dry weather ended.
We have been making progress on the fiberglass work, with difficulty, between rain showers. Fortunately, we have an experienced fiberglasser helping us out. He spent the first day chipping and grinding out the crushed fiberglass, to get down to good structure.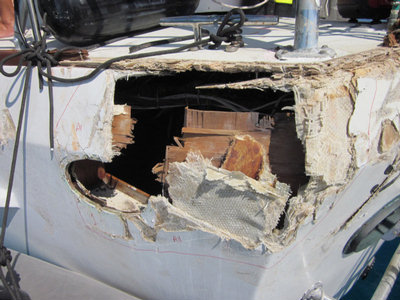 The Big Hole in our Port Quarter
Then the hard part started--the hole we have in our port quarter runs from the just inboard of the toe rail and down the side across a "chine" (an angle in the side that runs the length of the boat), so getting the hole filled in the original shape is quite technically challenging. We have to use plywood to fill in the hole piecemeal in the right shapes, and then lay the fiberglass over to hold it in place. Then gradually build up to fill in the complete hole to its original thickness.
We've gotten the first pieces glassed in place, but the hole is not closed up yet. And it's raining. We have a couple of layers of plastic temporarily taped over the hole, but water still gets into our bunk.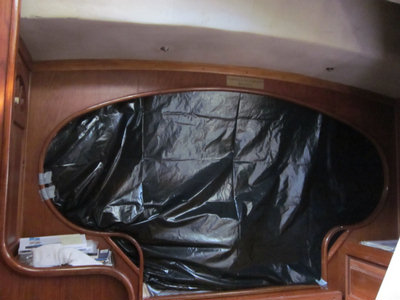 Our Cabin Sealed to Keep the Fiberglass Dust from the Rest of the Boat
We have evacuated our bunk while the repairs are underway--fiberglass dust is some of the itchiest stuff in the world, so we have evacuated the area and used plastic garbage bags and duct tape to seal it off. So we are now living in about 35 feet of boat instead of 44', and with a lot of "stuff" from the aft cabin piled temporarily into the main cabin.
As I sit here typing, it's drizzling again. We don't have internet here, and so no satellite picture to show us what's going on nearby. And the GRIB forecast with respect to rain is very unreliable. But maybe tomorrow the sunshine will come out for a day or two, enabling us to finish filling in the hole, so at least we can move back into the aft cabin.
We are still hoping to get out of Vava'u in the next 10 days, and go cruise the Ha'apai (another group of islands in Tonga), before moving on to Fiji in early June.