Out of the messy 'South Pacific Convergence Zone' that has been hanging over us for about 10 days (ever since the MJO arrived), has finally emerged a 'named tropical storm'--Cyclone Daphne.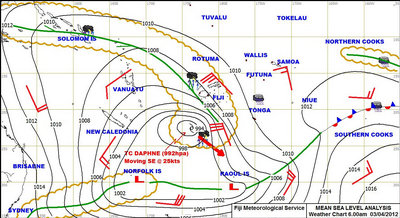 Daphne Headed South, Away from Us
The funny thing is that OUR weather has been pretty nice the last few days. Daphne and the low that preceded her have been hanging out over our friends from Zephyr, in western Fiji..about 500 miles to the west of us. They have been inundated with rain, and Fiji has some really hard-hit flooding areas.
Right now our wx is beautiful... light winds and sunny skies. And Daphne is headed southeast, headed for our friends in NZ now!!
I watched another beautiful sunrise in the cockpit this morning, and thanked my lucky stars... for good weather... for a good life... for good health... for a good husband... for good friends, etc. It doesn't get much better than this! (and for you too, Bryan)