This picture was taken 2 days ago. Yesterday, the final big piece of plywood was fitted in, and we put 10 layers of fiberglass/epoxy over it.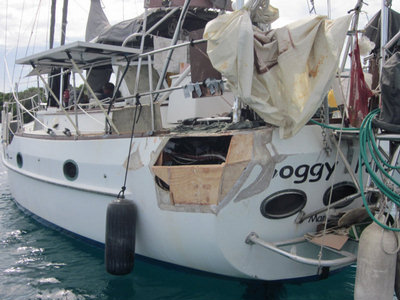 Progress on our Port Quarter Repairs
We have one porthole on the starboard quarter that is in a closet, which makes no sense, because all that does is fade the clothes in the closet. So we have removed that porthole to replace the smashed one on the port side, which we DO use for ventilation. So yesterday we also glued in a plywood plug in that hole, and we'll glass over it tomorrow.
Still left: finish building up the outer fiberglass to match the existing boat lines, filling and fairing on the outside, a layer or two of glass on the inside, and fiberglass over the starboard side porthole. And, of course, painting. Fortunately, we already had a gallon of white paint aboard,
We'll be working on it for a few more days at least. We're still sleeping in the main cabin with all our aft-cabin possessions stacked around us. But maybe tomorrow...
Our friends on Shango and Sea Flyer are leaving us. Both checked out today. Shango is headed south to the Ha'apai (southern Tonga), and we hope to catch up with them in a week or two. Sea Flyer is headed for Fiji, and we should run into them in another month.
A few boats are starting to arrive in Tonga from New Zealand. And we have lots of friends down in NZ who are anxiously awaiting a good weather window to head north from NZ. (Coming up Saturday, I think, the wx gurus say).