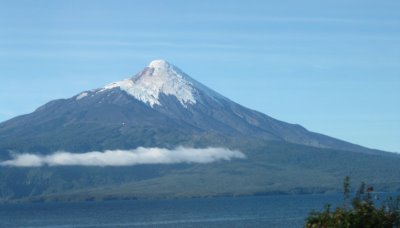 Vulcan Osorno from our Cabin Window
Our Sky Airlines flight from Punta Arenas to Puerto Montt was uneventful. It was pretty overcast, and we had interior seats, so we didn't see much out the airplane windows.
The pilot landed in the heavy fog, 'below minimums', I believe. But we lived. I don't think there are many reliever airports around here.
We didn't see much of Puerto Montt... it was totally foggy and about 7pm. We took a taxi from the airport directly into Puerto Varas. No reservations... We had the taxi dump us at the front door of the hostal we hoped to get into. But they only had bunkbeds left, scattered across 4 different rooms. (We are now, for a short time, traveling with friends Evan and Donna from s/v Java). So Evan and Dave went around the corner to look for another place while Donna and I guarded the pile of backpacks. Our walking poles make good defensive weapons, if needed!
After a bit, Dave and Evan came back with good news... two nice rooms in
Ellenhaus
, for a reasonable price. They have built this hostal in the 2nd and 3rd levels of an old building, and it's literally a rabbit warren. But a nice one. I got lost every time I went out of the room, but the room was nice and very clean, and the hot water was hot, and we had internet.
The next morning, Dave and I bought new backpacks... Chilean brand (Doite)... to replace the cheapies we'd bought in Guatemala that are now literally falling apart at the seams. We couldn't justify $400 North Face backpacks, and the Doites looked pretty good. They were being used as rental gear in Puerto Natales, so they will probably hold up to our careful use.
Then we all went out to the grocery store and stocked up for 4 days in Ensenada. We are renting a cabin on Lago Llanquihue, with a nice big kitchen. Then we caught the local bus out to Ensenada. 42 KM with all our gear, for about $3 per person.
Varas was still really overcast and foggy in the morning, but as soon as we headed out toward Ensenada, we came out from the clouds and it was nice and sunny. We could see Vulcan Osorno alongside the lake as we approached. And our cabin is right on the water, and right under Osorno. We'll hang out here for a few days (and let Easter weekend pass by).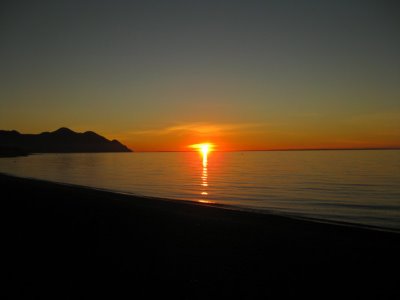 Sunset Over Lago Llanquihue
Details on where we've been staying in every town are being posted on our website:
http://www.svsoggypaws.com/travel_chile.htm