We crossed over the mountains from Chile to see a little bit of the other side of the 'Lakes District', in Argentina.
It was an uneventful trip on a double-decker bus. We didn't know it was going to be double-decker, and ended up on the bottom tier... better seats, more room, but not as good a view.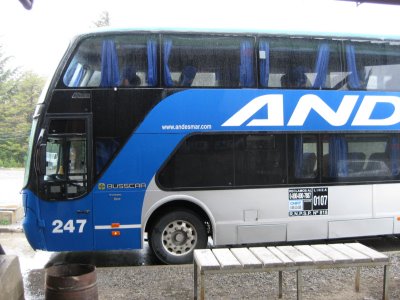 Unfortunately, most of the time we were up in the mountains, it was foggy and drizzly, so we didn't see a lot.
We'd had a tip on a place to stay from another cruiser, called Hostal San Francisco. But we didn't know where it was--it wasn't in the Lonely Planet and wasn't online. When we arrived at the bus terminal in Bariloche, the Tourist Information counter was closed.
So it took us about an hour of messing around... dragging our packs with us, to find out the location of San Francisco. The lady at the Tourist Information office downtown was very helpful and gave us a list of 3-4 more places in the same area. We finally found San Francisco after lugging our packs uphill a couple of blocks. But it didn't have any internet... :(
So I sat with the backpacks while Dave went off on foot to investigate the other places in the area. It took him a long time...
I was starting to get worried about him, and imagining all sorts of bad happenings, but he was just being his usual thorough self. We ended up at Hostal Wikter (Victor), about 2 blocks further up from San Francisco. It is a nice small hotel with private baths, central heat, breakfast, and wifi, for only about $22 per night. It looks like it was a much more upscale place a few years ago.
We emailed the directions to Wikter to our new friends, Brandy and Mark from s/v Restless, whom we met in Valdivia. They had already had a trip to Bariloche planned for tomorrow (a border crossing to renew their 90 day tourist visa in Chile).