We obviously didn't plan properly... our only full day in Valparaiso is today. Today being Monday, nearly everything is closed on Monday (the Museums we wanted to go to, and the restaurant we wanted to go to). Apparently they do a pretty good weekend business from Santiago, and Monday is the day off.
But we still managed to see lots of Valpo, as the locals call it, and totally wear ourselves out.
Valpo is kinda similar to San Francisco... waterfront surrounded by lots of hillsides. All the roads are higgledy-piggledly, so it's easy to get lost. Most roads either go up the hills or across the hills. There are 14 'ascensors' (elevator kinds of things) that you can take to get up the steep hills. Most were constructed in the early 1900's, and are kind of creaky. UNESCO declared this a World Heritage Site in 2003.
Ascensor Cerro Concepcion
One of the tourist things to do is to take all 14 up to the various hills. We only managed one--the one our hotel is on.
Another ascensor we tried to take today was closed until 4pm, so we walked up the stairs instead, to get to the Cochran Museum, which we thought was the only museum open on Monday. It wasn't, but since we'd walked up about 500 steps to get there, the caretaker let us in anyway, and gave us his spiel.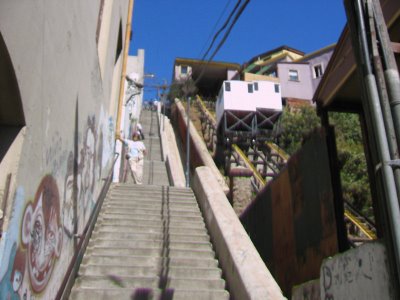 Sherry Resting Halfway Up the Steps
Lord Thomas Cochran was a Scotsman who essentially founded Chile's Navy back in the early 1800's, after they became independent from Spain. It wasn't as much of a museum as the residence of a famous guy, with a good view. So the spiel didn't take very long. The view was wonderful, and there were cannons there. A successful visit, I thought.
Then we went down to the fish market and found Restaurant Anita, on the 2nd floor over the fish market. It was a great seafood meal and for a reasonable price. As you wander around the restaurants on the 2nd floor, each of the proprietors tries to get you to come in to eat in their place. Anita was a good talker, and in the end, as we still hesitated, offered us each a free Pisco Sour with our meal. This clinched the deal for us. We didn't regret eating there. About $10 for the two of us to eat there.
After lunch we took a tourist launch out into the bay. For 1,500 pesos per person (about $2), we got a half hour ride out into the Valparaiso Bay. We saw the ships from closer up, a better view of the waterfront and the surrounding hills, and some sea lions. It was worth $2. But a little cold out there on the water.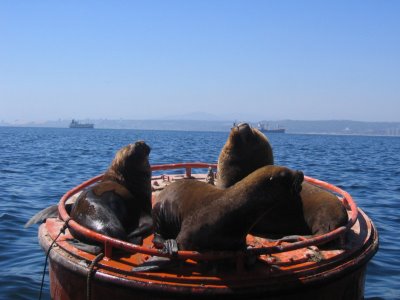 Then we took the Valparaiso Metro train, which starts right near the pier we took the tourist launch from, and goes over toward the sister city of Vina del Mar. We bought a round trip ticket, for about 50 cents per person each way, just to see what there was to see. It was a little disappointing when the train went underground halfway thru the trip, but we did get to see a few things from the train. We got off at the Vina del Mar station at the other end, and walked back about a mile down the route, covering on foot above ground, the area that we went underground in the train. We walked through the heart of Vina del Mar down to the sea, and then along the shore, just to see a little of Vina del Mar and the waterfront there.
We were also trying to see what waterfront facilities there might be for sailboats. We had seen none along the waterfront in Valparaiso, but thought we'd seen some masts over toward Vina del Mar. While we were walking, we saw what looked like a marina or yacht club, and about 6 one-designs out sailing. There was a least one cruising-sized boat out on a mooring, and 20-30 masts of boats either docked or dry-docked along the road. We didn't actually stop in, though, so it's hard to tell exactly what was there.
Our next stop was an antique store called something like Grandfather's Old Stuff. Dave has been re-bitten by the coin collecting bug, and wanted to visit this place, which was mentioned in the Lonely Planet. He ended up buying a 1775 Spanish half-Real coin for $15. If you're an antiques buff, there was lots of other interesting things in this store. But since we are homeless people, buying more stuff we have to store, in hopes we might display it in some house in 10-15 years, didn't seem to make sense.
Then we took a 'collectivo' (shared taxi) for about a dollar, up the hill to La Sebastiana, one of the highest places in Valpo. It is the home of a famous artist, and also museum, but it wasn't open today. (We knew that). But it was also the starting place of a nice walk along the ridge in Valparaiso. Lots of scenic overlooks, etc. Also much artwork on the walls, which Valpo is also known for.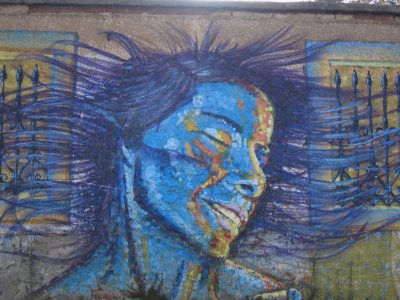 An Example of Valpo Wall Art
More examples on our Photo Album
We walked for about an hour, winding around, following Via Alemagne, gradually going downward, and ended back at our hotel on Cerro Concepcion about 6pm.
Unfortunately, the quirky French Restaurant we wanted to eat at for dinner is also closed on Mondays. So we went back down the hill into the working part of town (as opposed to the tourist district we are in on Cerro Conception) and had an inexpensive meal in a bar/restaurant. Seafood for two, with a beer, for about $10 for the both of us. That's a real bargain anywhere in Chile.
Tomorrow we head back to Santiago (after visiting the Naval Museum, which will be open tomorrow), and on Wednesday, we fly further south to Punta Arenas. At Santiago/Vaparaiso, we are already at 33 degrees south latitude. Punta Arenas is at 53 degrees south, another 1,200 miles further south!