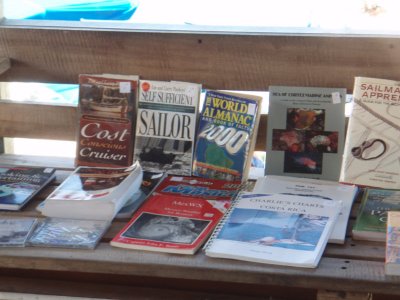 Dave is a big fan of flea markets--both to buy and sell. He tries to organize one among the cruisers every few months, to clear out old stuff we don't want.
Today is another one, here at Land n Sea. We have already bought something...2 more diesel jugs. I never thought I'd get Dave to put jugs on the deck, but the reports of $10/gal fuel in the South Pacific has encouraged him to think about it. (Not to mention 2 nice jugs at $4 apiece).
This afternoon we are hitting the road via bus, across the border to Boquete, Panama. We have a friend there with a farm, who has offered to meet us at the border and take us to his farm for the weekend. Craig and Sarah on Pogo II, another CSY. Craig also runs the Panama Sailmail station and the HP2XBA Winlink station, and he's promised to stop at the station so we can see his setup firsthand.