Sherry and Sarah on the Porch
On our full day in Boquete, we enjoyed a leisurely breakfast on their porch, looking out to the Pacific Ocean (Gulf of Panama) about 20 miles away.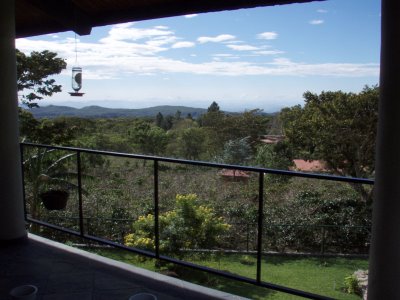 The View from the Porch
Then Craig and Sarah took us out in their 4WD truck, just looking around. We explored up on the back roads in the mountains as far as the Vulcan Baru Park, just to give us feel for the area.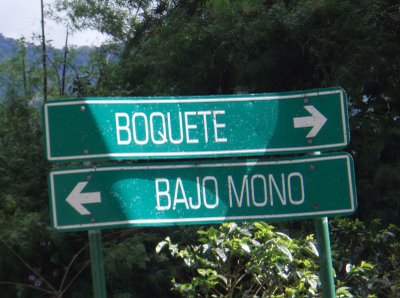 It was beautiful and cool up in the mountains. We had lovely weather... clear and bright sunny day in the morning... until the clouds and light sprinkles poured over from the Caribbean side of the mountains.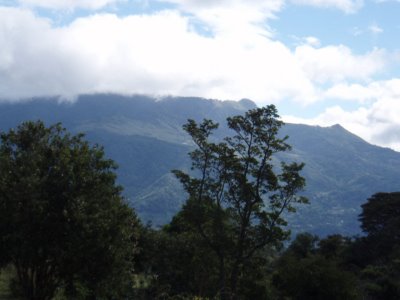 The Clouds Rolling in from the Caribbean
The Beginning of the Hiking Trail
We had a nice time in the evening, too. Craig and Sarah invited some of the other ex-pat Americans over for some burgers. They are all building or have built a house in the area. A very interesting and well-traveled group of people!
After a nice weekend in the cool mountains, it was kind of a shock to get back to hot, humid Golfito. We can see why everyone likes Boquete so much.
At the border crossing, we were again struck by the difference between the Panama side and the Costa Rica side... Costa Rica's road is a poorly-maintained 2-lane road. Just over the border, Panama's version is a 4-lane highway. I have always thought that Costa Rica was one of the wealthiest of the Central American countries. But they aren't spending it on infrastructure down south!
Though we've really enjoyed our time in Golfito--after it quit raining--we are now ready to get going!