Sad face. I have gotten really lame at doing regular blog updates. It's just so much easier to blast a few words and a picture on Facebook (and friend Pam Wilson has been Facebooking lots of our activities before I even get to them). Plus, I am spending a lot of time editing cruising details into my PNG Compendium and Solomons Compendium (cruising guide supplements for cruisers following in our wake).
So again, in an attempt to get going again, I'm going to list what we've been doing without a lot of explanation, and then try to do a post on what we have been up to in the last week.
My position reports via Winlink are now pretty much up to date, so you can see where we've been and where we are now.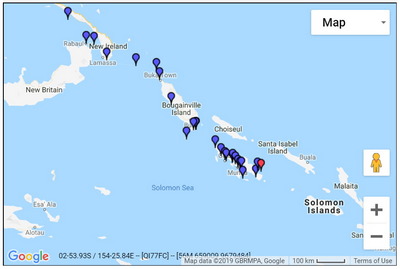 Our Position Reports for the last few months
Follow our position reports in the future on this link:
http://svsoggypaws.com/currentposition.htm
Here are all my missing posts in the last month:
Mar 16-17 PNG, English Cove to Buka
Mar 18-19 PNG, Buka to Shortland Islands, Solomons
Mar 20 Solomons, Checking in to the Shortlands
Mar 20-25 Solomons, Fun in the Shortland Islands
Mar 26-27 Solomons, Sterling Island
Mar 28-30 Solomons, Sterling Island to Liapari
Mar 31-Apr 1 Solomons, Arrival in Gizo
Apr 2-13 Solomons, Exploring Vonavona Lagoon
Solomons, A Few Days in Noro