We enjoyed our stay in Munda, Western Province, Solomon Islands. Munda is a small town--about 3 blocks wide and 3 deep, plus an airport. It's primary claim to fame is the airport, plus a road and water link to Noro. A couple of weeks ago they initiated the first direct flight from Brisbane, Australia to Munda, to try to encourage tourism in the Western Province.
Some of the Curious Kids at the Wharf in Munda
In Munda, the cruiser hangout is Agnes Lodge, a very cruiser-friendly/tolerant place. Steps out Agnes Lodge's front door is the local market, and up the main street are a number of small stores, where we were able to buy supplies, fresh bread, and top up our cell phones. We had a couple of happy hour evenings on the deck at Agnes Lodge, and dinner a couple of times too.
There is some diving in the lagoon (WW2 airplanes), but Dave has been fighting a suppurating tropical infection on his leg, and staying out of the water. So we skipped the diving for now.
We did fit in a fun half-day trip with Dive Munda to hike up to a waterfall.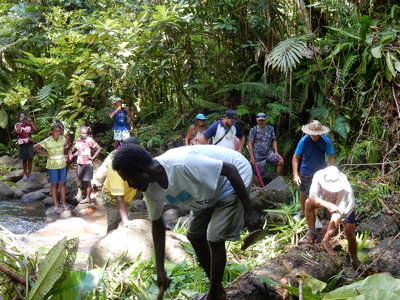 Our Group Crossing the River
Like similar trips we have done recently, we expected a two hour easy hike and it turned out for us as a four hour difficult hike. We marveled at the young apprentice guides who came with us, skipping across the top of the rocks in the river in their flip-flops. Meanwhile, us old folks stumbled and slipped along in our $100 hiking shoes, unbalanced and fearful of breaking a leg 1000 miles from anywhere. We understand why these 2 hour hikes turn into 4 hour hikes. (They can't believe we are so slow, especially when the bird-watchers pull out their binoculars!).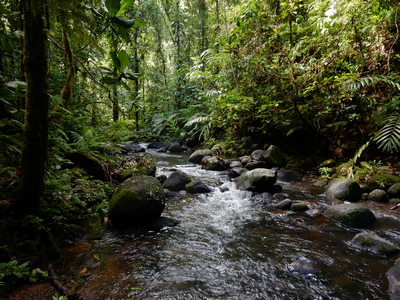 We crossed this river 9 times going up and 9 times going down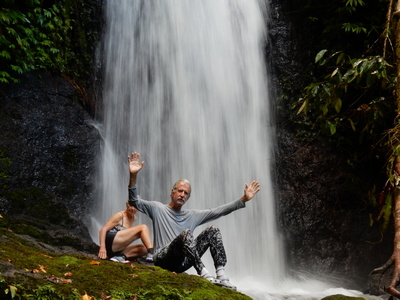 Dave Enjoying the Fall
(Note stylish "Thailand Pants" to thwart mosquitos)
Dave Behind the Fall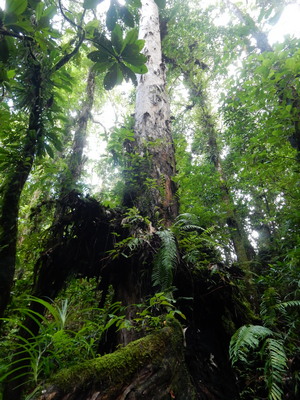 A Massive Tree Next to the Swimming Hole
It was a fun hike, and it signaled the end of our 4 boat group that has been traveling together since January...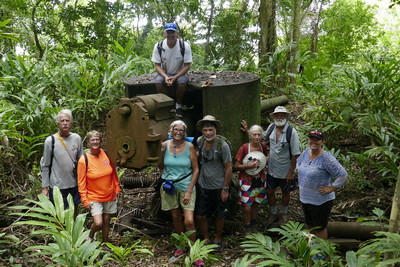 Berserker, Indigo II, Ocelot, & Soggy Paws Crews, looking at rusty bits in the jungle (again!)
The next day Ocelot headed north to park their boat in Liapari for a couple of months, for a trip back to the USA. Soggy Paws and Indigo headed south towards the Marovo Lagoon, and Berzerker stayed behind for a week to wait for Craig's brother to fly in.