We left Tubalan bay around 4:30 am and motored in calm winds and seas for a bit. Lots of fishermen and floats (looked like floating long-lines, not nets), but at 4:45am it was light enough to start seeing things. The wind started out light W and gradually clocked all the way around and picked up to an exhilarating 15-20 out of the ENE by the time we were approaching Sarangani. We detected no adverse current and some significant helping current after we rounded the hump in the west side of Gulf of Davao.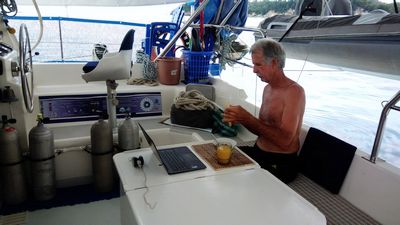 Dave Eating Breakfast and Reading Email In Sarangani
Because of wind direction, we opted to try a different anchorage than the two we've been in. We used the "Sarangani SW" waypoint that's in Terry's list (I think), from Shiralee. We dropped anchor in 20-30 ft (with some coral nearby to about 15 ft) in a sand spot. There are several nice looking spots along the west coast of Sarangani. With darkness fast approaching, we didn't have time to explore much.
There is a fair north-bound current where we are right now, holding us sideways to 7-9 kts of wind. It's fairly decent snorkeling here (clear water, sand and coral).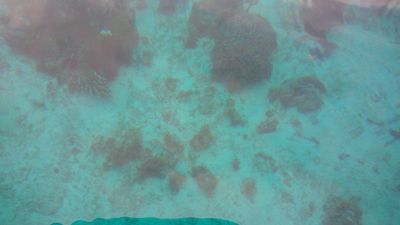 Clear Water!
We dropped our anchor at 05-25.084N / 125-27.547 E.
Decent Globe coverage here. I do see a Smart phone signal but no data.
As we motored in to the anchorage at Sarangani, the Philippine Coast Watch station on the southern tip of Mindanao called us by name (because we had our AIS on) and took us off to Ch 14 and asked us a few questions (this is normal, they call all passing ships they see on AIS). But now anyone with a VHF within 50 miles knows we are somewhere nearby, and that we are 2 Americans on an American boat, headed for Indonesia. On the other hand, we know the Coast Watch station can hear us from here, if we have an issue.
We spent another day anchored in this spot. Dave puttered around fixing things and Sherry took advantage of the last wisp of internet (at good speeds in our anchorage) to take care of business before we lost internet for about a week.
In the afternoon, we noticed a Philippines Navy Ship in the shipping lanes between Mindanao and Sarangani. We felt they were "guarding" us. The were sitting NW of Sarangani Islands and calling passing ships (like the Coast Watch station does), we saw them pretty much all day there.
We had another quiet night in the nice anchorage with great internet. (Globe Only).