We finally escaped from Samal. Bittersweet, as we really love the marina, and are leaving some good friends behind.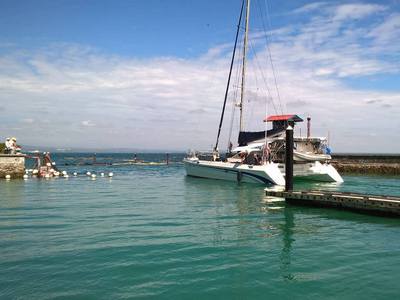 Goodbye Holiday Oceanview Marina!!
We motored south with just the jib up until we passed the ferry terminal, then put up the bigger light air Code Zero. Still had to motor since wind was light behind us, and we needed to make a minimum of 5 knots to get in Tubalan (43 miles away) before dark. Even though we left at nearly exactly high tide, and expected a little helping current, it seemed we never had any favorable current...all day. We went on the west side of Samal, close in to shore.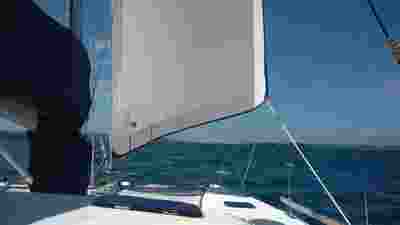 Ahhh! It's great to be underway again!!
Almost on schedule (same as we experienced last year in May on this leg), around 2-3pm, near the south end of Talikud Island, the wind abruptly switched to SE and picked up. By late afternoon it was blowing 15-18 out of the SE, and we were sailing at 7.5 knots with no engines. Because the wind was from the SE and our course was due south for Tubalan Bay, we couldn't quite make the harbor at Tubalan with the wind from that direction. So we just kept up our best VMG, and sailed fast as close hauled as possible, ending up about 5 miles west of Tubalan Bay. Then we put down the jib and motorsailed close in along the coast in the lee as much as possible. Unfortunately, our Port engine starter wouldn't engage (Dave hasn't yet figured this out yet, but we do have a spare), so we were on one engine, going slowly (about 3.5-4kts into the 15-20 kts of wind, thankfully not much sea!)
Note: Today's spot forecast (GFS) shows a SE wind in the Gulf of Davao every afternoon for the next 10 days. So be forewarned to expect a strong land-induced SEly wind in the afternoons, maybe, going down the Gulf of Davao. It seems to die off to almost nothing at night, though.
So we ended up coming into Tubalan bay at dusk, racing darkness. Then we had a problem with the windlass/chain which took about 10 minutes to resolve. Now it was full dark, the wind was still blowing a little, even in the lee of the land, and we only had one engine. It is very difficult to close-in maneuver at slow speed in a cat with only one engine. We abandoned the idea of anchoring in our old (2014) anchor spot in the SE side of the bay, on a very narrow shelf, and headed for the SW side of the bay, where we had anchored last year with the Rally.
We had been in the bay enough times to feel OK motoring around slowly in the dark, with Dave on the bow, and me with the computer and OpenCPN, with both our 2014 and 2016 tracks in the cockpit. There is a large fish farm structure in the middle of the bay to the west side... just about where our CM93 charts show an anchor on the chart. But the spot we ended up anchoring, you could come to in a straight line from any part of the entrance (slowly, carefully, watching depthsounder and with a lookout on the bow) and clearly avoid the hazards of the fish farm to the west and a coral shelf coming out from the dividing point of the east and west lobes of the bay. (Note that the coral shelf on east side of the entrance extends a LONG way out from land. It is more or less correctly shown on the CM93 chart). Heading straight SSW into shore at 2 kts, when our depth sounder went abruptly from 120 ft to 35-40 ft, we dropped anchor. Probably in coral. We can see stakes to our south about 100 meters that probably mark a very shallow coral ledge.
Both Globe and Smart cell phone coverage here.
Anchor wpt: 06 30.0796 N / 125 34.2857 E
This anchorage wouldn't be good in the strong northerlies we've had this past week--might be better in the eastern lobe of the bay then. But it is OK for NE-S-NW. We are getting a little swell this morning that we think is probably related to tidal issues (I remember same thing last year). No wind overnight and we were drifting around in circles--there is a slight along-shore current here. Right now, wind is NNE about 7 kts and a little chop, but still fine.
There were two bars or houses ashore that we could hear music from about 7pm to 9:30 pm. One was Karaoke and another was techno music, both loud. But thankfully they shut down before 10pm. We locked up and set our cockpit movement alarm and slept well last night.
We were visited by a couple of guys in canoes about 9am this morning. They are fishermen in the village of Malita here (lots of small fishing boats and FADs all over). Neil Davis (one of the guys) spoke reasonably good English. We asked him about safety and Abu Sayyaf. He said this is a Christian village, a Christian area. And even when there are Muslims, they are good Muslims. He said the Jolo/Basilan area (SW Mindanao) has Muslims that came from Malaysia. These are the bad guys (he gave us what seemed like a tribe name, but I didn't write it down). The Muslims from Davao to Sarangani are different tribes--they are good guys. They migrated from Indonesia. He said we should not fear stopping along this coast. He asked if we wanted any food or water or "coconut wine". He also offered help from the village if we needed help with the starter problem. (Note, there is a bus that runs along the coast between General Santos and Davao, if you needed to hitch into Davao in an emergency).
If Dave can get the Port engine starter issue fixed today, the plan is to stay here today and head out about 4-5am tomorrow for the next day's hop... 67 miles from here... to Sarangani. We have a spare starter, so if the problem isn't fixable, we'll just swap in the spare starter and fix the problem later. Then we'd leave Sarangani about mid-morning on Wed for a Thursday arrival in Sangihe.
I contacted Jeffry Gaghana today via Facebook Messenger. He was the head of the Sangihe tourism department, and responsible for our Rally coordination, in 2014. But had been deposed by changing elections when we visited last year. He speaks good English and we met with him when we were back in Sangihe in 2016, plus have been FB friends for 2 years. I asked him if we stopped in Sangihe on our way to Bitung, would it be OK. I said nothing about staying on or getting off the boat. He thought it would be fine. Since we know where the ATM and the sim card shop is in Sangihe, I may convince Dave to sneak ashore and get some cash and a couple of sim cards, without bothering with any formalities. But even so, since we have the YachtERS cruising permit application and an Indonesian visa in our passport, I would think that even if an official approached us, we'd be OK by showing these and just stating that we're on the way to Bitung to do our formalities.