We closed the deal on the new catamaran this week, so our beloved Soggy Paws, which we have owned and cruised for 18 years, is now for sale.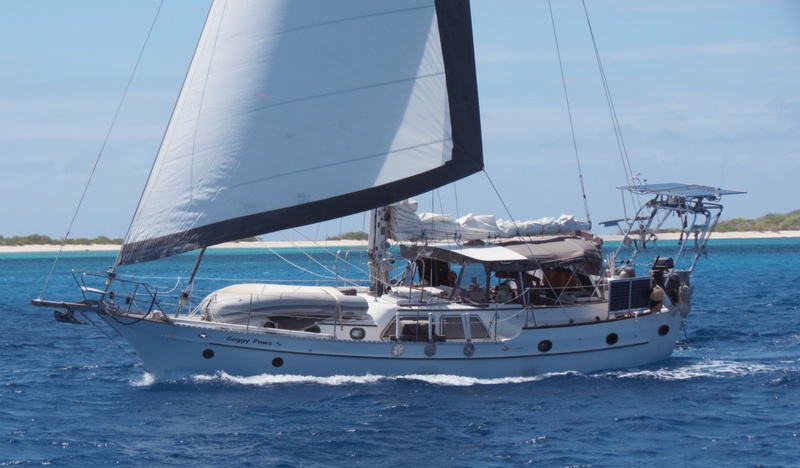 Arriving Under Sail in Bikini Lagoon
We have just posted an ad on Sailboat Listings. Here:
http://www.sailboatlistings.com/view/50976
As most of you no doubt know, we have many many upgrades on Soggy Paws that are too numerous to list in an ad. As we were equipping Soggy Paws for long term cruising, we have bought tens of thousands of dollars worth of spares, so we could fix anything ourselves in the middle of the Pacific Ocean. Plus of course, continually upgraded our equipment based on our needs and new technology. She is ready to cruise as-is, where-is. The one thing we HAVEN'T spent a lot of money on in the last 10 years is cosmetic work.
So, Soggy Paws is currently in the Philippines, undergoing a complete cosmetic refit--new Awlgrip paint on hull and decks, and interior painting and varnishing. In a few months she will look like new. But you couldn't buy a new boat like this for less than $500,000 dollars. They just don't build them like this any more.
For some reasons why a CSY should be your boat of choice, check out this page on our website. And then feel free to browse the "workshop" section of our website for all the upgrades and information about our boat.
http://svsoggypaws.com/AboutCSYBoats.htm
We realize that it's going to be a hard sell for U.S. buyers to buy a boat in the Philippines, just because of the distance issue. But if you are getting ready to retire, this is a GREAT place to buy a boat. No need to make the 30-day crossing from Panama to EXPENSIVE French Polynesia (beer=$5). There is a large US ex-pat community in Davao and in the Philippines. Medical care (and everything else) is reasonably-priced and good quality.
From here you can island-hop all over INEXPENSIVE Southeast Asia (beer=$1)--the great diving in the Philippines, Eastern Indonesia (Raja Ampat) and Palau, and then make your way to the best of the South Pacific (Tonga, Fiji, Vanuatu, Solomons)... we're leaving for there on our new catamaran in January, wanna join us?
If you are seriously interested in the rare CSY 44 Walkthrough, let us know, we'll work with you. We are willing to rebate the cost of your flight to Davao to check her out, from the final purchase price. Our asking price reflects the final refitted-as-new price. If you're in a hurry or want to do your own "cosmetic refit" on your own time, and get a discount in the process, let us know.
We'll periodically update the pictures as we complete our refit.
Note: Sold in April 2016 to a guy from Perth, Australia.