Last fall, we hauled out Soggy Paws, to keep her safe while we were off the boat (2 months in US, then 2 months in NZ). Then we planned to work on her out of the water for most of this year.
So this has been our home since October last year: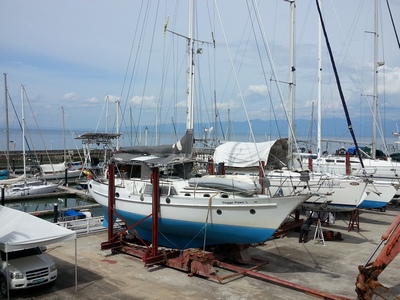 Soggy Paws "On the Hard"
Living this way has many interesting quirks. Like... we cannot use our bathroom facilities because there is no water to flush. So we go to the marina bathroom. And for the inevitable middle-of-the-night visits, we use a bucket. (I'll spare you the picture of our bucket!)
This is our front door.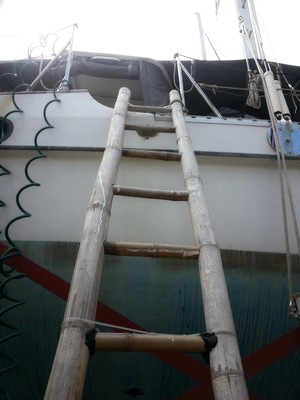 Our Front Door
Anything that comes or goes off our boat now has to be hauled up or down that ladder. Everything from 5 gallon jugs of drinking water (can't use the watermaker and the marina water is kind of "hard") to the heavy sewing machine.
And ourselves, of course. After a nice happy hour on the balcony, teetering up and down that bamboo ladder... I have been REALLY careful making the transition from deck to ladder and back. We already have one friend who fell off a ladder in the yard (in NZ), and is barred from cruising for 6 months while ribs and broken arm heals.
Since the plan for this year was a cosmetic refit for Soggy Paws, we had 2 big plywood boxes built (4x8x2), so we could unload stuff from the boat, one section at a time, to start re-doing the interior. We thought 2 boxes would be sufficient to unload the non-essential stuff from the whole boat. Guess again!! We only got the V-berth unloaded before the boxes got filled up.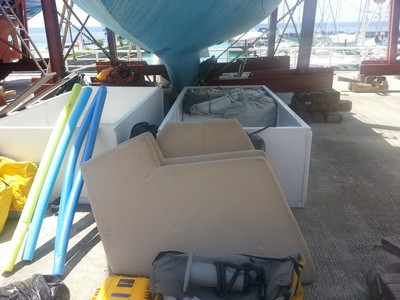 Our Home-built "Storage Pods"
But, progress is being made!! (in spite of all the other unplanned wrinkles in our lives) Our V-Berth is done and it looks really nice.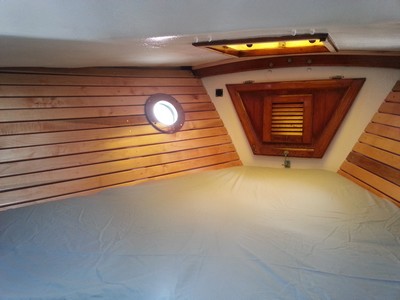 The New V-Berth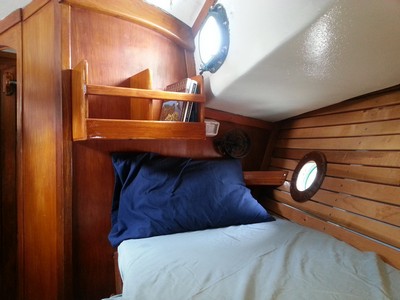 We have been working pretty hard, but it's not all work and no play. One night we went out to a local "watering hole" and it happened to be their first anniversary party. They had a great live band playing 60's and 70's pop and rock music. Great stuff! And they have a full Filipino and "Western" menu.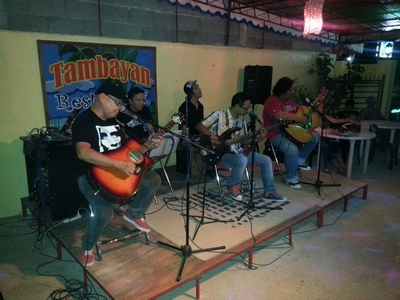 Jammin' at Tambayan
And we've hooked up with another cruiser who's been organizing a dive trip every Sunday, using the marina's boat. It ends up costing about $40 US for a 2-tank dive (we just split the cost of chartering the boat with driver). We have found the local diving to be amazingly good. The coral is healthy and there's a huge variety of soft and hard corals. Unfortunately, no big fish, but lots of interesting little ones.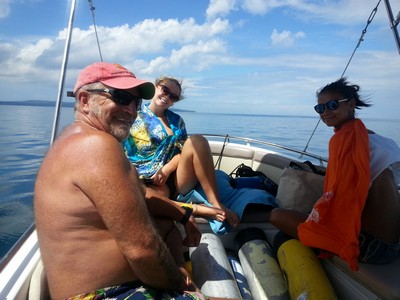 Sunday Dive Trip with s/v Furthur's Crew
At the beginning of the year, I was about to commit hari-kari when I realized that the plan was to live aboard Soggy Paws in the heat, out of the water ALL YEAR LONG. However, I just realized that, with the purchase of the new catamaran, that today was the last day I'd have to live aboard on the hard for quite some time. When we come back to pick up where we left off, we'll be living on the the new Catamaran Soggy Paws, and we can truly unload the CSY Soggy Paws and not be trying to live aboard in the middle of a refit.
So, off we go today to Malaysia to pick up Catamaran Soggy Paws!! We are excited to say the least!
We have a had a few nibbles on our
Soggy Paws For Sale ad on SailboatListings.com
, but we honestly are not ready to sell yet--until we can get the Cat to the marina and unload the stuff we won't be selling with the boat (mid August). One guy wanted to see interior pictures. !!! Trust me, bubba, you don't want to see the interior of Soggy Paws right now!! (I sent him a picture of our V-Berth-in-Progress and tried to explain that the boat was such a disaster area right now that I couldn't take any representative pictures). But meanwhile, if you have a friend looking for a good cruising boat, they can't do better than a CSY. By 1 September we'll be getting really ready to show her off. So have your friends start planning their September vacation trip to Sunny Samal.