In somewhat of a shocking change of direction, we have decided to buy a catamaran!!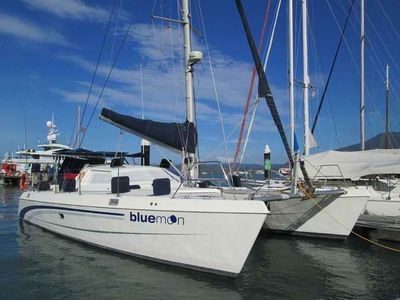 Our New Catamaran
This all started a couple of weeks ago when Dave heard that a guy in the marina was selling his catamaran. Dave has been hot to buy a cat for awhile now--ever since our good friends Jack and Nicole defected from the CSY camp to buy a Bahia 46. It flares up every now and then, but up til now I've managed to keep him focused on getting Soggy Paws around the world.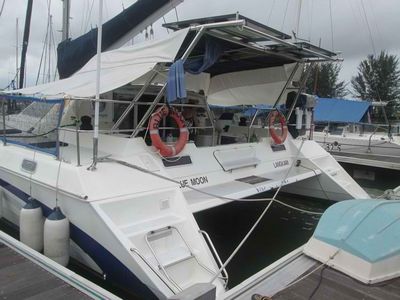 Great Dive Platform!
Well, one thing led to another, and after he looked at every cat in the marina and found them lacking (or too expensive), he found out friends of friends were selling a St. Francis 44 catamaran in Malaysia, and for a very good price. Looking at the pictures, it looked like a great deal. I couldn't talk him out of it. So we flew to Malaysia to take a look at Blue Moon.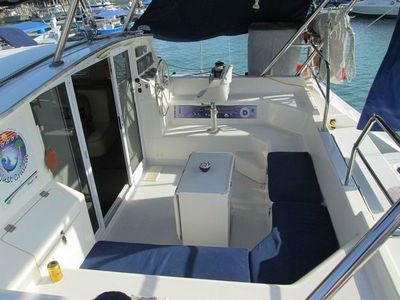 And a Gorgeous Cockpit
Blue Moon turned out to be as nice-looking in person as she did in the ad, and I slowly came around to Dave's point of view. So we made an offer. "As is, where is" in Malaysia. And darned if our offer wasn't accepted!!
So we are now scrambling with trying to get all our ducks lined up to complete the purchase--without the luxury of being in the U.S. It's a crazy situation, with us here in the Philippines, the boat is in Malaysia, the seller is in New Zealand, and all our money is in the U.S.
Meanwhile, we've got people working on Soggy Paws to get her fixed up for sale. The boat, rigging and systems are really solid--it's mainly the cosmetic things that have suffered over the last 8 years of cruising. And this is great place to get that kind of work done. We've had 2 carpenters working for the last week in the v-berth, and it's already looking amazing.
Our plan, assuming we conclude the deal on Blue Moon in the next few weeks, is to fly to Malaysia around the 1st of July to get the new "Soggy Paws" launched and cruise her back to the Philippines. Once here, we can get both boats side-by-side and transfer all our "stuff", and then get serious about selling Soggy Paws.
It's going to a steep learning curve, going from a heavily-built monohull to fairly light and fast catamaran!
You can see a few more pics of the new boat here:
http://www.bluemooners.com/journeysend.htm
.
If anyone is interested in buying a great cruising boat and being able to cruise the South Pacific and SouthEast Asia, without actually having to cross the Pacific Ocean to get here, drop us a line! We'll have a proper "For Sale" page for Soggy Paws, the CSY soon.